| | |
| --- | --- |
| Date | Friday March 6th |
| Days in Japan | Day 3 |
| Location | Shibuya (Tokyo) |
| Hotel | Sotetsu Fresa Inn Higashi Shinjuku ($56.78) |
| Daily Tip | Don't always trust the foreign reviews about places. |
Today's Japanese Lesson
| English | Pronunciation | Japanese |
| --- | --- | --- |
| Recommend | "o su su meh" | おすすめ? |
| It Is | "des" | です |
| Is It? | "des ka?" | ですか? |
Map of Travels
Just Another Friday in Japan
Oh boy oh boy oh boy, it's Friday! Time to turn-up, get wild, and experience some happy hours featuring the renowned Japanese drinking culture. This morning I wasted no time in mapping out an exploration to one of the most popular and happening neighborhoods in Tokyo, Shibuya. Shibuya is known most for it's "Shibuya Scramble Crossing", "Shibuya Scramble Square", abundance of love hotels, Izakayas, and clubs. The area attracts a younger crowd given all the clubs and the drinking culture, although with the help of a few drinks I can usually play the part.
| Shibuya Scramble Square | Shibuya Scramble Square |
| --- | --- |
| Shibuya Crossing, or Shibuya Scramble Crossing, is a popular scramble crossing in Shibuya, Tokyo, Japan. It is located in front of the Shibuya Station Hachikō exit and stops vehicles in all directions to allow pedestrians to inundate the entire intersection. | Rising to a height of about 230m, and with 47 floors above ground, Shibuya Scramble Square is the tallest building in the Shibuya area. It is a large-scale complex comprising an observation deck, offices, an industrial exchange facility, and commercial facilities. |
| | |
The drinking age in Japan is 20 and I was ID'd ONCE throughout the entire trip (not that I look that young) but all you have to do is literally click a button on a kiosk at the convenience stores confirming that you're "20 or over" in order to purchase alcohol.
I did have to spend a little longer than I'd hoped at the hotel just recording and organizing my expenses thus far. I'm making an attempt to keep track of all my expenses throughout the trip which isn't too difficult currently but I definitely gave up on that later in the trip when cash was my primary source of payment. I also spent a decent amount of time planning my evening and deciding which bars I wanted to visit first. Another acquaintance of mine had recommended "Goodbeer faucets" which had also popped up through my research, good enough reason to make it my starting point! When I travel or go out I like to plan things very thoroughly but mostly as a "Plan B", overall I actually enjoy wandering and following my gut on where to go. There is a fine line on how far that'll take me before my anxiety sets in and I begin to feel all sorts of stress over the inability to settle somewhere. I'm also not a huge fan of "tourist hot-spots" or places that are heavily visited by foreigners. Riu had agreed to come out to Shibuya this evening after work to give me my first Izakaya experience so I only had to outline a small portion of the evening.
The station I departed from to get to Shibuya was a smaller station than the Shinjuku Station and located just down the street from my hotel. I got to the station and quickly realized that the "map" of stops was completely in Japanese Kanji. This meant I was now unable to use my phone for maps, communication, and was unable to read what station I needed to get to… My anxiety decided to team up with my nerves in order to keep me from attempting any communication with the masses of local Japanese that were effectively utilizing the kiosks and heading off past the gates. Luckily, before leaving the hotel, and my sanctuary of comfort, I had taken some screen shots of the directions (although in English) and at the bottom it showed the "cost" of the trip. I assumed that'd equate to the one-way ticket I needed to get to Shibuya so I put in my change, got my ticket, and successfully proceeded through the gate at least knowing which platform and train line I needed thanks once again to my screen shots.
Japan has 3 different basic writing styles or alphabets.
Hiragana
Katakana
Kanji
Can be used to spell out and write most Japanese words or sentences.

The modern hiragana consists of 46 base characters:

5 singular vowels
40 consonant–vowel unions
1 singular consonant
Used when spelling a foreign word such as banana.

While the Katakana are different characters from the Hiragana, they have the same rules, sounds, and number of characters in their alphabet.
An old Chinese character system in which the Japanese have adopted. Consists of over 7000 characters and each have individual meaning and sound different. Although they sound different from Chinese to Japanese, either culture could use these characters to communicate with each other in writing. You literally can't sound these out, you need to memorize the strokes of each character to remember the meaning and sound associated with each. Students spend approximately 7 years learning the basic Kanji.
– Example –

えき

ですか?




Is it

a station?

You'd typically not use Hiragana for station and would instead use the use the Kanji which you can see in the Kanji example.
– Example Words –

バナナ – Banana
アメリカ – America
ケチャップ – Ketchup
ヒューマン – Human
– Example –

駅

ですか?




Is it

a station?

You can see how much more complex the Kanji can be to describe even simple words like station.
Learning the Hiragana or Katakana really isn't too difficult but you need to learn thousands of Kanji to read just about anything once in Japan.
The train station kiosks are relatively easy to use once the get the hang of them. Depending on the size of the station there may be several different kiosk areas. Japan has a ridiculous amount of different "train lines" which are conveniently sorted by color (the train itself even usually has that color painted on it). Each line is owned and operated differently so it's important to make sure you're at the correct kiosk when purchasing your ticket. There are two ways to get a ticket; you can either look at the large map above the kiosks, notice the amount needed, and simply click that on the screen (i.e. 260 yen button) in order to print a ticket for that amount, or if you're lucky sometimes you can change the language to "English" (not all kiosks have this option) and find the destination station and click on that. As an emergency fail safe, at the larger JR stations there's a ticket booth where you can purchase your necessary ticket and even at smaller stations there's usually a worker onsite who can assist with getting the correct ticket. If you do happen to miscalculate your overall trip, the "fare adjustment" kiosk at your destination is relatively straightforward and easy to use (unlike ones at BART in San Francisco). Some kiosks take credit and some only take cash or change. You don't have to put the exact amount in as it'll provide you change (and even give back cash change!). At one point later in the evening Rui literally took my change bag and just dumped it all into the machine to speed things along.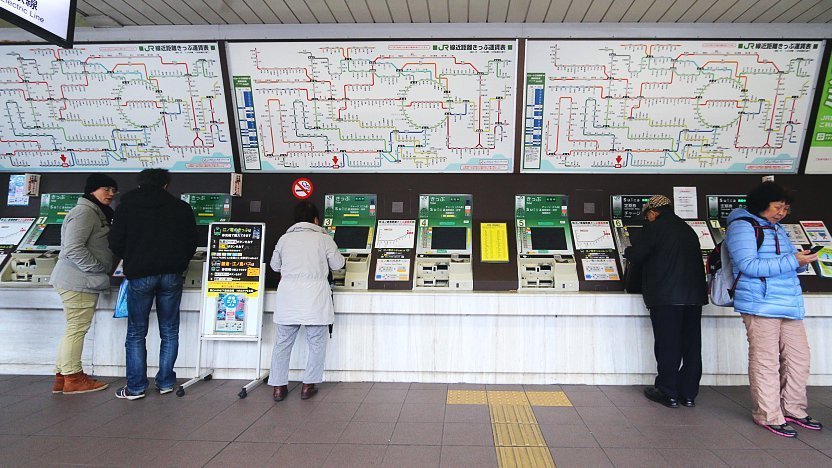 The main railways in Japan are the JR Railways which are pretty commonly found throughout Japan and ultimately connect many smaller towns – they're different from the "local" trains you can find to travel locally. There is a JR Railway Pass that you can purchase for 7, 14, or 21 days. The Pass must be purchased in advance (before arriving in Japan) and thus gives you free access to ALL the JR Railways during the selected period of time. It's a pretty awesome package and a great deal if you're planning on traveling a lot in a short amount of time. I didn't personally purchase the pass as most of my stops were for a few days at a time and after doing some research I found that even the 21 day pass wouldn't really save me much money.
| Map of Tokyo Railways & Lines | Map of Main Lines Around Tokyo |
| --- | --- |
| | |
You can view larger images of the maps at the bottom in the gallery – Can you spot where the "lines" on the right are located in the left photo?
Many restaurants and Izakaya are located on different floors so it's important to always note which floor your desired destination is on.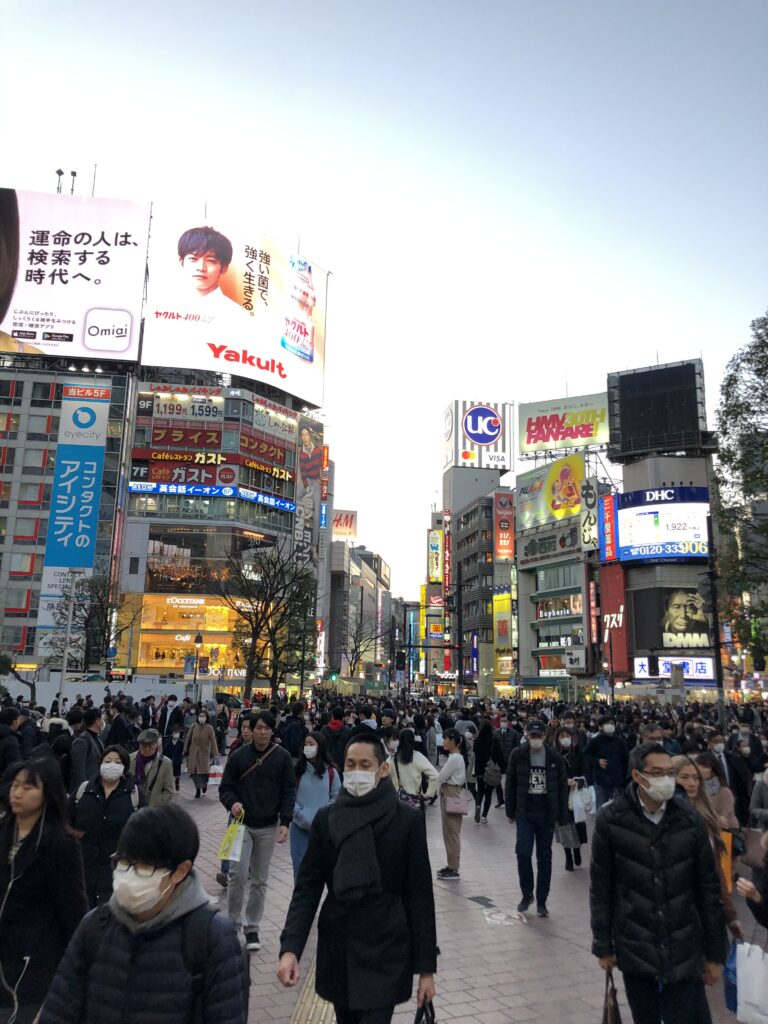 While fiddling with my phone and about halfway through my first beer, two older American gentlemen came in and sat just a few seats away. They seemed to know the place as one was showing the other gentlemen around Shibuya. Turns out they were pilots for United or some larger airline and had a layover in Japan. Even with my headphones on I could pickup on some of their conversation and gave myself a slight mental facepalm when one of the men commented on the bar incorrectly spelling "Whisky". For those who haven't attended my bartending class yet…
Whisky is spelled without the (e) if it's a Scotch or a Japanese Whisky (which is modeled after Scotch). Irish and American Whiskeys include the (e) in their spelling and are made slightly differently.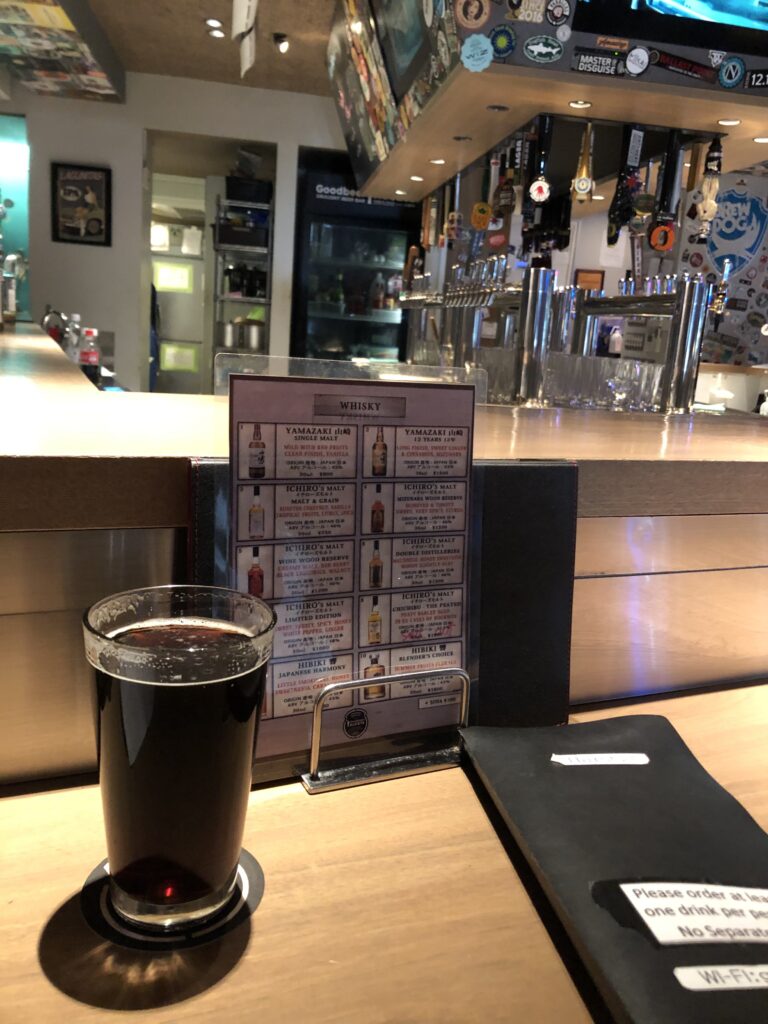 Anyhow, their conversation wasn't particularly captivating but one of them spotted me looking "American" I suppose and began inquiring about where I was from. We continued to discuss the variety of beers on the menu and all the awesome beers that ultimately come from the west coast. I finished my initial beer and hadn't heard from Rui yet so opted to grab another pint. As I made my next order one of my new drinking buddies actually offered to sponsor my drink which was a nice little surprise and reward for holding what was a pretty shaky conversation. We continued to chat for a while longer and eventually they took their leave excited to explore more places on their own. Around the same time I finally got a reply from Rui that she was nearby and agreed to meet at the bar so that we could venture to the Izakaya together. Without being able to use my phone without the help of Wi-Fi I was a little scared of leaving her waiting while I aimlessly wandered the streets.
Don't always believe the review on English apps – Americans and others rate everything super high mostly just based off their hype of being in Japan…
Not going to lie, a LOT of the Japanese people are pretty similar looking with their masks on and it makes it difficult to locate the person you're looking for in a large crowd. To avoid these challenges it was easier for me to wait for Rui to recognize me as she usually ran up shouting some greetings once having spotted me. We finally connected and began our evening journey to the Izakaya which was located pretty close to where I was held up and just down a small alleyway. Holding true to my theory that all the best places are located on awkward floors of hard-to-find buildings, there was minimal signage to locate this Izakaya which was located on the B2(basement) floor of a small building. We headed down the stairwell and found ourselves entering an almost completely packed Izakaya roaring with conversation and laughter. We had to remove our shoes at the door which is pretty common at most of the better (in my opinion) and tradition spots in Japan. We made our way around the bar area (kinda like a food counter near the chefs, not a drink bar) and secured 2 seats near the corner as the server took our coats to hang them up behind us.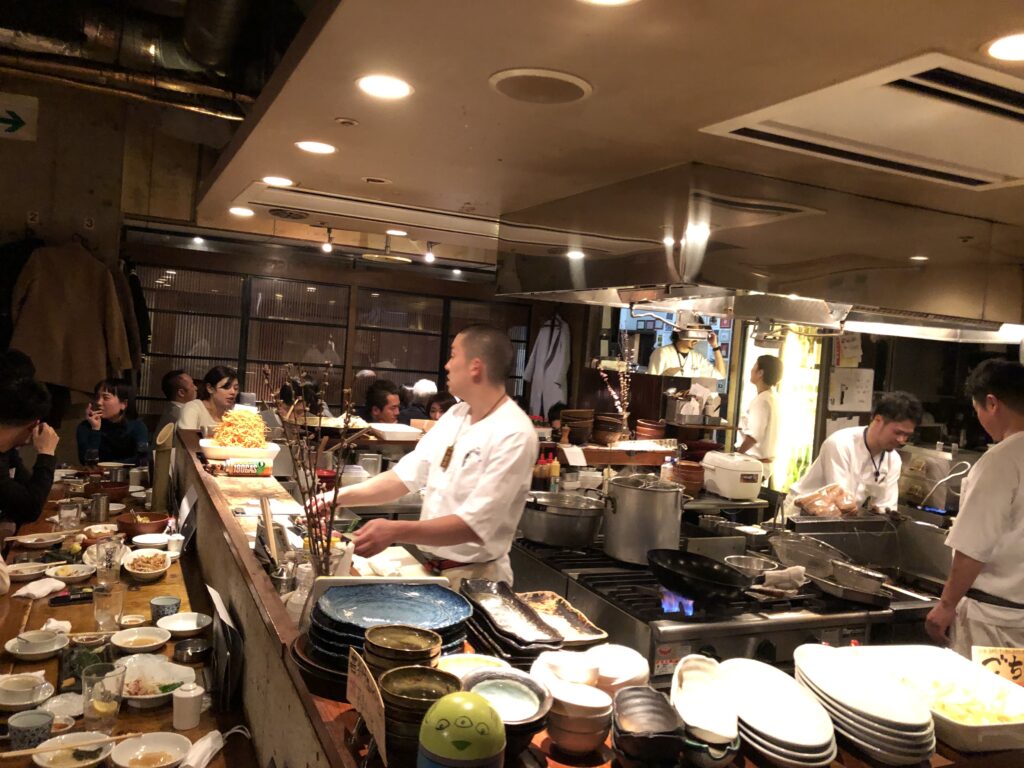 Most bars, restaurants or Izakaya have hangers located near the seats or the door for you to hang your jacket or belongings - since Japan is so safe you don't need to worry about theft.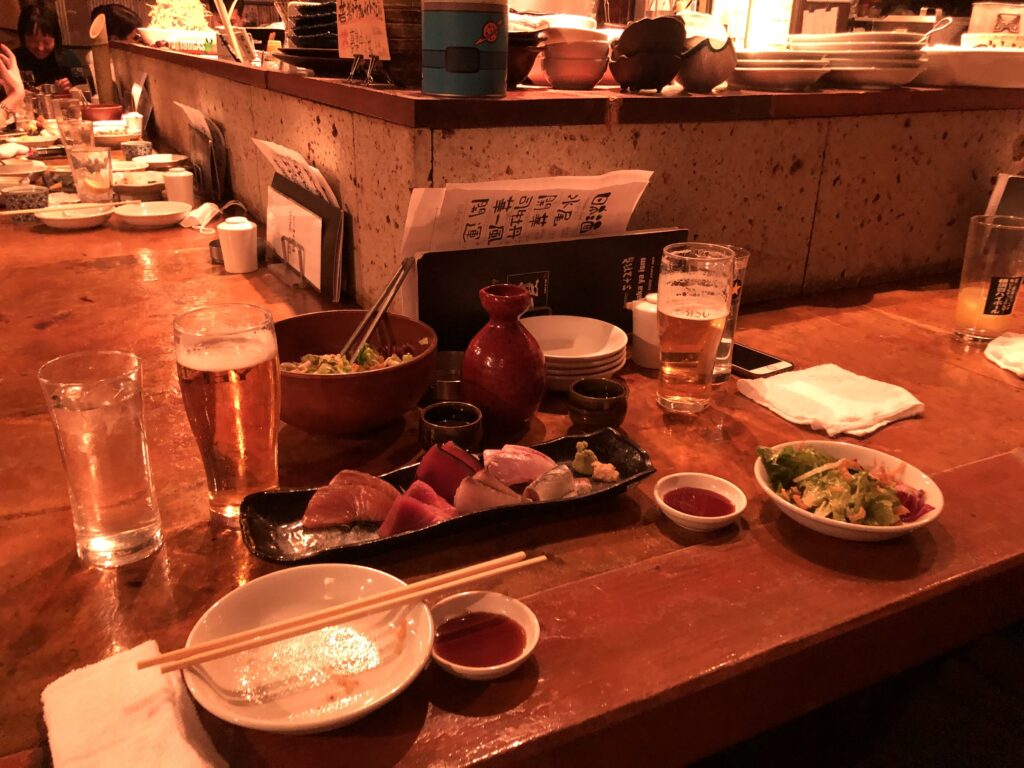 I couldn't shake the large smile on my face as I was one of three foreigners in the entire place and judging from the continuous stares, was probably one of the few who'd ever discovered this local gem. The menu was handwritten in Japanese characters and they didn't even have an English version which is a pretty good sign of the place being amazing. Rui ordered us up some sake, beers (I love to drink the two in tandem), and a smorgasbord of exotic Japanese cuisine. I felt I'd finally stepped into another world and was a little ashamed that I'd just come from a "tourist trap" bar located just down the street. We proceeded to eat some amazing Sashimi and I got to try some other delicious dishes as we crushed quite a few drinks and eventually were ready to take our leave. We both agreed to continue our exploration and decided on sampling some more bars in the Shibuya area. After walking past several places and trying to pick a spot primarily based on our gut, we came up on a bar called MON which looked like a pretty fancy spot. We headed in and once again scored ourselves seats at the bar as we began to examine the very lengthy drink menu. Finally, a real bar with an extensive and amazing cocktail list. The bartenders really looked to know what they were doing and the cocktail list was vast which was quite impressive as I know first-hand how hard memorizing a ton of drink recipes can be. I'd heard a lot about how the bartenders in Japan took their job very seriously and treated bartending as an art. After examining the menu for quite some time and while in partial shock by the vast spirit selection, I decided to go with one of my mom's favorite cocktails – The Grasshopper. This cocktail is a minty and sweeter martini of sorts but tastes like x-mas morning. We both placed our order and it seemed the bartender was beginning to feel a little uneasy by my constant staring in my attempt to examine his technique and movements around the bar. Ooooooiiii the drink came out better than I remembered!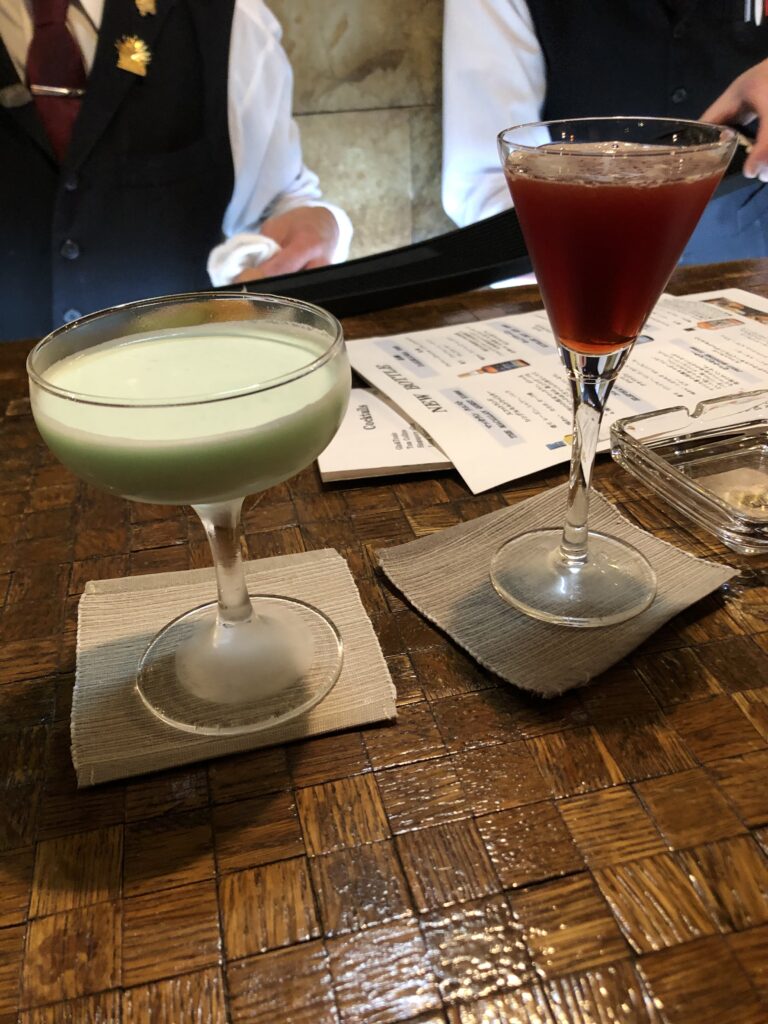 Rui and I both finished our drinks and decided to order another round as this bar had a cover and we didn't want to wander to another nearby bar and get hit with a new cover for possibly inadequate cocktails. The cover also included some snacks for us to enjoy which were a nice salty accessory to the already delicious cocktails. The second round tasted just as amazing as the first but we unfortunately had to gulp down the drinks a little quicker as midnight was approaching and that meant the possibility of missing our last train out of dodge. We decided to head closer to the hotel and grab one last nightcap near there. We rushed out of the bar and towards the station in an attempt to catch one of the last and soon-to-arrive trains home. The streets were filled with young people which I could easily divide into two groups. A number of the youth were totally trashed and struggling to stand, let alone keeping their act together, while the others were still trying to get their buzz going, drinks in hand and preparing to enter the nearby clubs.
Japan's streets are clean enough and there's so little theft that sometimes business men can be spotted sleeping on the sidewalk or in the alleys after late nights of being incapable of finding their way home.
Rui and I quickly made our way through the station in an effort to get to our train as many other bystanders sprinted by us to catch their own trains that were now packed to the brim with people trying to retreat to their respective neighborhoods. We squeezed onto our own train and although it was cramped, I felt a little relief knowing we were getting off at a nearby station and conveniently positioned close to the doors. We arrived back in Shinjuku and were in search of one final drink before returning to the hotel. Conveniently, the hotel was located just 5 minutes from Golden Gai.
Shinjuku's Golden Gai is a small area of Kabukicho and is famous both as an area of architectural interest and for its nightlife. It is composed of a network of six narrow alleys, connected by even narrower passageways which are just about wide enough for a single person to pass through. Even though the area is small, Golden Gai hosts over 200 unique different bars for you to choose from, most ranging from 4-8 seats.
Many bars don't open until 8pm or later. Although they'll usually stay open until about 4am, some staying open all throughout the night.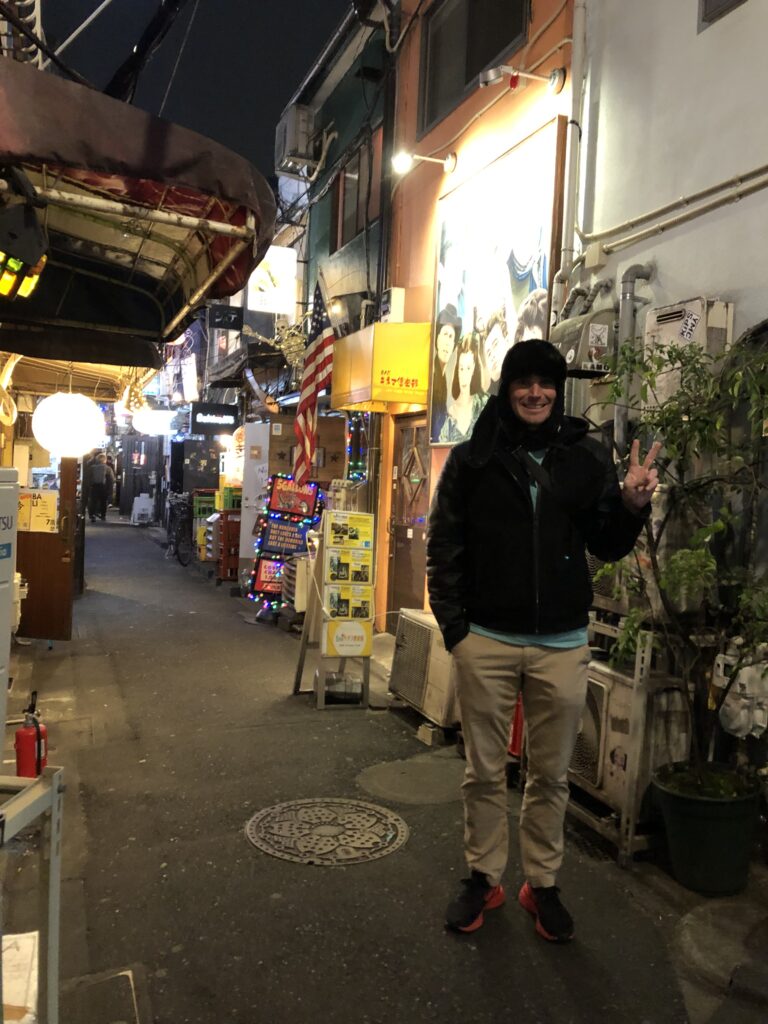 We made our way through the small alleyways trying to decide on which of the super small bars we'd pick to grab a drink at. We eventually found one that didn't have a cover and was located up a steep staircase. We made our way up the stairs and found ourselves in a small bar that featured 5 seats that were unoccupied with a bartender dabbling around behind the bar. We felt a little put off by the initial vibe but had already pretty much committed so we decided to take a seat and try our luck with the drinks. Unfortunately our initial gut feeling was right and drinks didn't compare to our previous stop but the bartender did speak a little English and was friendly. After a nice little conversation with the owner we headed back to the cramped alley both aware of the need to make another attempt at a legitimate nightcap. We rolled the dice again at another bar that sounded a little busier from outside and resided once again upstairs. It turned out to be French-themed bar with about 3 people sitting at the bar. We chose to occupy the lone two-seater high-top table located off to the side. I wasn't really feeling lucky at this point and just ordered a bottled beer and we enjoyed our final drink of the evening. The night had turned pretty hazy at this point but we were able to manage our way back to the hotel and were welcomed yet again by a vacant front desk allowing Rui to join me for some shuteye after one hell of a fun night.