| | |
| --- | --- |
| Date | Wednesday March 11th |
| Days in Japan | Day 8 |
| Location | Nikko -> Oshiage |
| Hotel | n/a |
| Daily Tip | |
Today's Japanese Lesson
| English | Pronunciation | Japanese |
| --- | --- | --- |
| Recommend | "o su su meh" | おすすめ? |
| It Is | "des" | です |
| Is It? | "des ka?" | ですか? |
Map of Travels
Just Another Friday in Japan
Rui and I both woke up today a bit lethargic as we'd slept like logs with the combo that had contributed to a quick end to our previous evening. We had to get up a bit quick though as breakfast had been scheduled quite early. We got dressed in our Yukata and made our way for the dining area to enjoy our next set meal. This time around there was an English menu waiting for me at my seat. Before we could even enjoy too much tea, the food began rolling out and it consisted this time of a special dish that involved cooking some food yourself (not a huge fan of that typically). Regardless, the food was once again ridiculously good and I even helped myself to seconds of the rice bowl (I absolutely love rice). After breakfast we made our way back to the room to change and had plans to head out for a little before preparing ourselves for one last onsen soak and then checking out. The weather was a bit chilly but it had a nice Tahoe crisp factor so I decided to wear my soccer shorts as we ventured back in the direction of the local convenience store, but this time we'd be visiting the Kegon Falls.
15000 years ago, the lava which flowed out by the eruption of Mt. Nantai dammed up the river and Chuzenji lake was made. And then, the water of Chuzenji lake fell from the huge rock face and the Kegon waterfall was born. The almost 100 meter tall Kegon Waterfall is the most famous of Nikko's many beautiful waterfalls. In fact, it is even ranked as one of Japan's three most beautiful falls.
We arrived at the falls after a short walk and there were a handful of tourists but it appeared to be much less than normal judging by the abundance of signs signaling where different lines should start and end. We paid the small 550 yen entrance fee and began our decent down an elevator shaft that would effectively take us 100 meters through bedrock to the viewing deck. The waterfall was absolutely breathtaking and the lack of a large crowd made it an even more magical experience. We admired the natural beauty before us and eventually decided to make our way back to the hotel so that we could get one last good soak in without being rushed to checkout. Rui, my handy photographer, snapped quite a few photos during our small walk as well.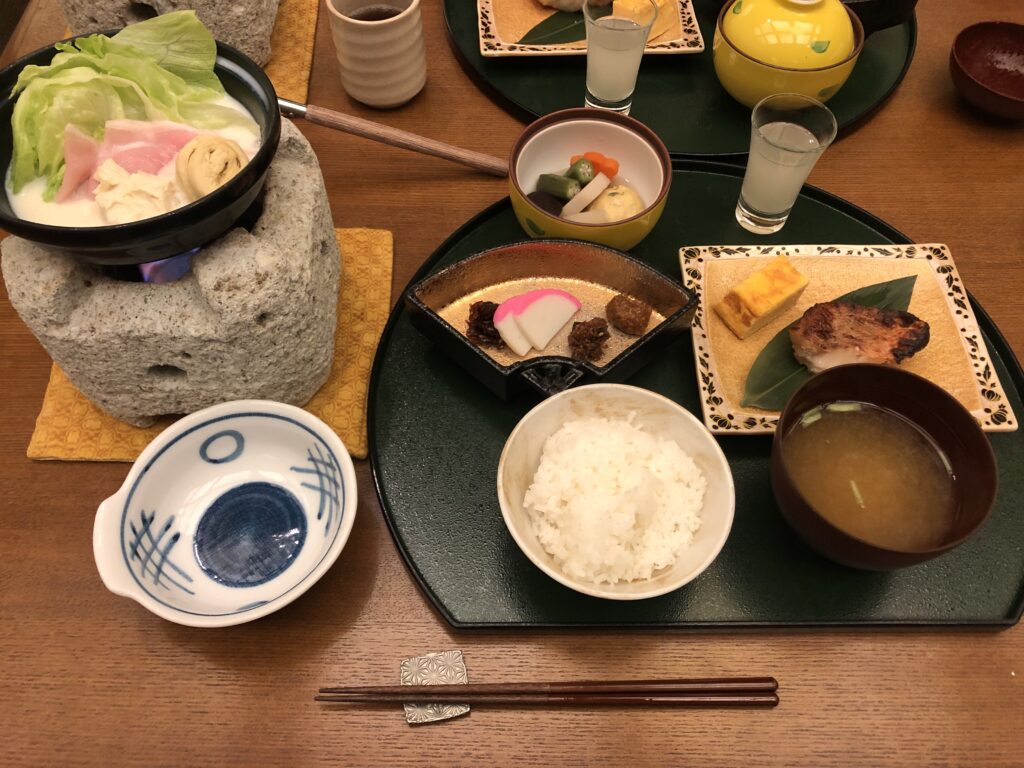 We finally changed back into our Yukata and made our way to the basement floor to go our separate ways into our respective onsens. I learned that most onsen will swap the different baths from men to women depending on the time to allow for everyone to enjoy the different experiences. At this specific resort they kept the same main "men & women" onesen but they did swap out a third smaller spring and bath which during the morning was for men and in the evening was for women. I decided on exploring this other bath to take advantage of the opportunity to experience the most possible. This changing room was much smaller and only had 4 different "pamper" stations. There was also no indoor bath but only a small outdoor one which was currently being occupied by a gentleman enjoying the tranquility. As I made my way to the bathing station (without having noticed me yet) he decided to get out of the bath which was quite convenient as it meant I'd enjoy the onsen all to myself yet again. I finished washing up and sank into the hot spring one last time. After finishing my exercises and relaxing in my surroundings, I was once again at my limit for what my body could handle in the hot spring. As I got out and made my way to the bathing station to remove the slight sulfuric smell that the springs gift you, another gentlemen entered the changing room. It seemed we were subconsciously on a pretty good schedule allowing each visitor to get to experience the bath all to themselves. After the bath I took advantage once again of the pear water and the popsicles – I'd damn near drank all the water and eaten almot every variety of popsicle by the time Rui came out of her bath to lecture me on the gluttony. We continued upstairs and packed our bags in preparation to checkout.
The bus from the resort would make a few stops along it's path back to Tokyo and one stop was the Nikkō Tōshō-gū Shrine which is known for it's "see no evil, speak no evil, hear no evil" monkeys.
Toshogu Shrine is the final resting place of Tokugawa Ieyasu, the founder of the Tokugawa Shogunate that ruled Japan for over 250 years until 1868. Ieyasu is enshrined at Toshogu as the deity Tosho Daigongen, "Great Deity of the East Shining Light". Initially a relatively simple mausoleum, Toshogu was enlarged into the spectacular complex seen today by Ieyasu's grandson Iemitsu during the first half of the 1600s. – Japan Guide
Our plan was to leave our bags at the front desk (they would load them onto the later departing bus for us) and then make our way for the local bus to take us down the mountain and to the shrine. We could then spend a few hours exploring the area before catching the resort bus back to Tokyo! Before saying our final goodbyes I made use of a "letter" writing station which displayed several different colors of ink and a beautiful glass writing utensil. Guests were able to utilize the tools in order to write a note to a family or a loved one. I took some time and wrote out a letter to my father who'd been keeping close tabs on how my trip was progressing and then paid the small stamp fee. After that we were finally ready to depart this mountaintop wonderland. We weren't the only ones with a strategic plan as we caught the local bus with another duo who'd initially traveled on the resort bus with us the day before. We took our ticket and boarded the bus.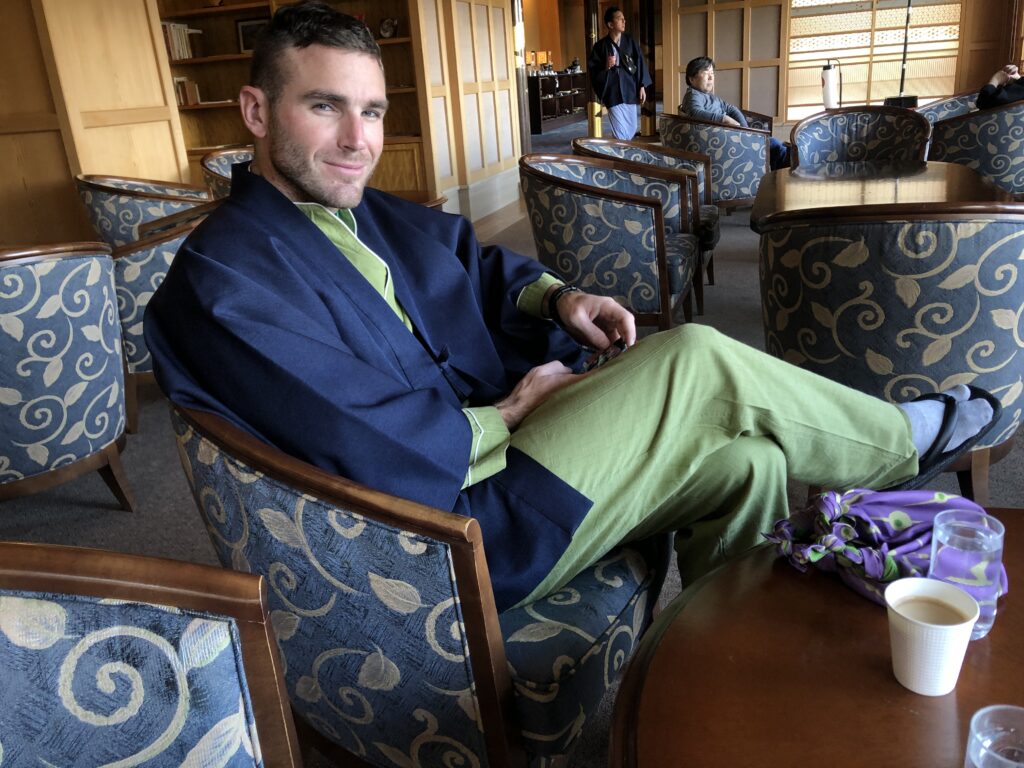 Busses in Japan are slightly different than buses in the US. Opposed to paying as you get on the bus, you typically board through the back side door and take a "ticket" (like a number ticket at the DMV) which has what stop # you boarded at on it. When you arrive at your destination you put your fare and the ticket into a machine and it gives you the okay to exit from the front of the bus.
We eventually crept down the very windy mountain road (barely big enough for the bus) and finally and arrived at our desired stop near the base of the entrance to the shrine. As we exited the bus we decided to pop into a nearby shop to make use of the restroom before beginning our exploration. We felt a little bad for stopping in to only use the bathroom so Rui decided to purchase some cheesecake bread and I spent a bit of time being tempted by all the unique souvenirs (knowing I had nowhere to store them). We exited the store and began the small climb up the main entryway to the front gates to the shrine. This particular area hosts a Buddhist temple and a handful of Shinto shrines with the main attraction being the Nikkō Tōshō-gū. The entire scene was a bit overwhelming with large walkways going in all different directions to shrines and the temple. I was beginning to get a little anxious thinking about all the things I was about to experience and see throughout the day but at the same time was excited to witness more of Japan's history. We located the ticket booth where there was a variety of different ticket packages depending on what we'd want to see. There were a decent amount of tourists, but probably just the perfect amount that it didn't seem crowded nor vacant. We had a long time before our scheduled bus home but we opted to just checkout the main attraction and leave some time for lunch.
We kicked things off by entering through the main gate known as the Omotemon Gate. We found ourselves in a small courtyard featuring 3 sacred storehouses. The storehouses host the colorful wood carvings of the three famous "speak no evil, hear no evil, see no evil" monkeys as well as the "imagined elephants" which were carved by an artist whom had never seen a real elephant. You could feel the history while venturing around this large sanctuary located in a magical and beautiful forest. Rui was insistent on snapping several photos to take advantage of the lack of crowds.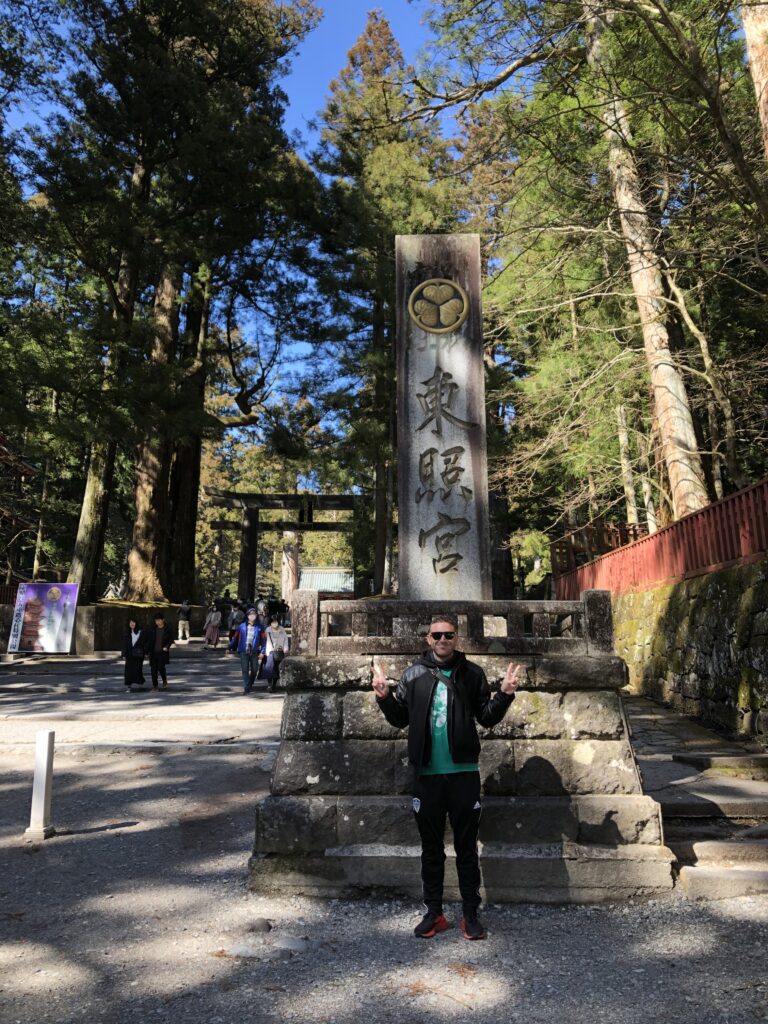 We made our way up to the Yomeimon Gate which is an extravagant gate built as the official entryway to the Toshogu shrine. The Japanese used to believe that the gods would become angry with anything built perfect and that would lead to it's destruction. Because of this, you can notice that some of the pillars supporting the gate are actually installed upside down as to add imperfection and not anger the gods. The gate is also know as the "Gate of the setting sun" as you could gaze at it from dawn till dusk and never tire. It's covered with over 500 carvings depicting traditional anecdotes, children playing, sages, and wise men. The wall spreading to the left and right of the gate is known as the Kairo and highlights bird carvings that are considered some of the best in all of Japan.
We continued our journey and found ourselves at the Honjido Worship Hall which featured the "Crying Dragon", a large dragon painting placed on the ceiling of the hall. After removing our shoes we realized this hall worked like a small tour and we had to wait briefly until a small group amassed and eventually were led into the hall and given a speech (there were only 4 of the 20 or so attendees needing an English translation – me being one of them). The dragon painted was named the "Crying Dragon" because if you hit two wooden sticks together anywhere in the hall the sound would instantly dissipate, but if you hit the blocks together right under the dragons head, you could hear the ringing continue making a crying sound for a few seconds. This sound is projected because of the acoustics of the hall. While you can't take photos or videos in many of the shrines or buildings, I was able to find a video demonstrating it – skip to minute 3:00 of the video. Outside of the worship hall we found a small gate known as the Karamon Gate which led to a large structure housing the praying hall and the main hall. The entire gate is painted with white powered chalk and the halls are dedicated to the spirits of Ieyasu and two other of Japan's most influential historical personalities, Toyotomi Hideyoshi and Minamoto Yoritomo. While most buildings and shrines in Japan are purposely made to be simple, every building here was super extravagant and decorative. We were once again able to remove our shoes and venture into the hall but weren't allowed any photos or video.
We were able to checkout a few more buildings and eventually came to the carving of the Nemurineko (sleeping cat) which signified the beginning of a large staircase that would lead us through the forest and to the Tokugawa Ieyasu's mausoleum. From the mausoleum gate to the mausoleum itself is a 40-step stone staircase. On the sides of the steps are stone lanterns dedicated by Ieyasu's warriors. We were able to climb to witness the Ieyasu tomb as well as an ancient spiritual tree in which many attendees were praying. Rui stepped up to the tree and put some coins into a box and proceeded to pray.
When praying at Shinto shrines you approach, put some change into the red box,  bow twice, clap your hands twice (to signal your presence to the local deity), say your prayer or wish, and bow once more before departing.

 

I've also heard you're actually supposed to keep a clear mind opposed to making a wish but where's the fun in that...
We began our decent down the staircase and hunger began to set in from the long (and uphill) hiking we'd been participating in. Let alone the walking, seeing so many new experiences really gasses me out quickly. We did a quick phone search and found a cool little soba shop nearby which had some good reviews. Before heading for food we checked out the Rinnoji Temple which was a large temple located near our exit. When arriving and leaving a shrine you'll typically pass under a Torii Gate. The gates can be found at the entrance or sometimes scattered inside the grounds. Symbolically, they mark the transition from the mundane to the sacred. This is essentially the entrance to "God's world" and it's traditional that you bow slightly upon entry and, while facing the main hall, bow while say "Thank You" upon leaving. You can learn more about shrine etiquette here.
The Rinnoji Temple was massive and is Nikko's most important temple. It was founded by Shodo Shonin, the Buddhist monk who introduced Buddhism to Nikko in the 8th century. As we circled the building Rui took this opportunity to show me how to purify my hands at a water station which are located at most shrines all over Japan. The water station is usually located near the main hall of a shrine and traditionally you're supposed to purify yourself before entering the main hall (although with today's tourism it rarely occurs). Below is the process you should follow while purifying yourself…
1) Hold a ladle with your right hand and scoop up water and wash your left hand.
2) Hold the ladle with the left hand and wash your right hand.
3) Hold the ladle in the right hand again and pour some water into your cupped left hand and rinse your month once.
4) Scoop water into the ladle again and let it flow down along the handle (to clean the ladle for the next person) and leave the ladle in its original place.
We were finally ready to visit our soba shop and made our way over to the small mom & pop soba shop we'd found using our phones. Nikko is very well known for it's homemade soba and even hosts a soba festival annually.
Soba is the Japanese name for buckwheat. It usually refers to thin noodles made from buckwheat flour, or a combination of buckwheat and wheat flours. They contrast to thick wheat noodles, called udon. Soba noodles are served either chilled with a dipping sauce, or in hot broth as a noodle soup. – Wikipedia
This being a slightly popular tourist destination, they had a nice English menu with plenty of pictures of each plate. We ordered up some soba and I got myself a coke. I could slowly feel my fatigue settling in as I filled my belly with the delicious noodles. After eating, we paid our tab and made our way back towards our initial starting point (as that'd be where our resort bus would be picking us up). We found a shady spot on the curb to relax while waiting for the buses arrival and were able to spot 3 other duos whom we recognized from the resort. Conversation was light as both Rui and I were pretty ready for a well deserved nap on the bus ride back to Tokyo. I'd be heading to Oshiage to my new hotel and Rui had offered to escort me there as to avoid any chance of me getting lost. We eventually spotted our bus and were able to check-in and hop on.
Once we arrived back in Tokyo it had already gotten dark and the city was brightly lit with commotion from people trying to hurry home after enjoying their happy hours.
In Japan, if you return home too early it can be seen as you didn't work hard, so even if people get out of work at 5-6pm, they'll likely proceed to have a drink or stay out for a bit longer so their spouse or friends feel they worked hard during the day and that contributed to them not coming home early. This has helped to establish the famed Japanese drinking culture.
We finally found our way from the bus depot back to the train station and began our journey to Oshiage. Oshiage is just located a little north of Tokyo and is the home of the Tokyo Sky Tree which I'd witnessed the evening after Akihabara. I picked this area primarily based off the fact that I'd enjoyed it during my brief night visit to the Senso-Ji Shrine. We were able to locate the correct train and soon found ourselves at the Oshiage station which is literally located at the base of The Tokyo Sky Tree. The Sky Tree is the tallest structure in Japan at 634 meters and is labeled as an observation tower which lights up the night sky for many to see. There is a large shopping mall located at the base of the Sky Tree as well which boasts several floors of shops and restaurants. My hotel was just located down the street which was a relief as I had all my luggage with me and wasn't looking forward to hauling it long distances. As we arrived at the hotel I began my check-in process which required me take my temperature to show I wasn't running a fever (virus precautions). Unfortunately, I'd worked up quite a sweat having lugged all my belongings a few blocks with my heavy jacket and mask on. The little thermometer gun thing that the receptionist was trying to use to take my temperature wasn't working and wouldn't give an accurate read. This obviously got my anxiety pumping as I was worried that maybe I did have the virus (although I felt fine) or that they may not let me stay if they couldn't get a result. The manager came over with another little device and attempted to take my temperature yet again to no avail. Regardless of this, she apologized for the defective devices and let me check-in. Rui agreed to wait in the lobby and search for a dinner destination while I made my way to the room to drop off my bags. While waiting for the elevator I noticed a sign for a "rooftop bar" which sounded amazing given it'd have legit views of the Sky Tree and surrounding skyline. I made a mental note to visit at least 1 of my 4 nights that I'd be staying. The room was small but super modern and stylish. I was able to drop my things and take a big sigh of relief as I'd successfully made it to my next "home base" and could relax for the next couple days. With the virus looming over the news and Tokyo trying its best to hold onto the Olympic hopes, it was uncertain what the future may hold and every time I had to move I'd worry of complications. I headed back down to the lobby and Rui was excited to have found us a fun little gyoza spot located inside the mall and at the base of the Sky Tree. We continued back to the Sky Tree and entered the mall which had a lot of shops beginning to close. We noticed a sign at the entrance which indicated that the mall and shops would be closing at an earlier hour than usual given the virus. We quickly made our way to the gyoza shop and were able to negotiate our way to get the last order of the night. We sat down and ordered ourselves a feast of gyoza as well as some beers to celebrate a successful and relaxing trip to Nikko. Our day had been long and both of us were beginning to feel the aftermath of so much travel and exploring. We scarfed the delicious gyoza and then began our return to the station so I could see Rui off and get myself some much needed rest. On our walk back I noted how most of the shops that were "closed" only threw some net over their products – another reminder how little theft there is in Japan.
As we exited the mall, I also noticed a large sign indicating that there was a Final Fantasy XII lounge located at the top of the Sky Tree which got my adrenaline pumping a bit with the hype of experiencing that within the next couple of days. Furthermore, right across from the station was a store called LIFE which Rui had indicated was much like a Whole Foods, but much more reasonably priced. I made a mental note to revisit in the next couple of days so that I could get a budgeted & delicious meal opposed to eating out so often. It was finally time to give Rui a farewell as she descended into the station and I began my walk back to the hotel.