| | |
| --- | --- |
| Date | Saturday March 7th |
| Days in Japan | Day 4 |
| Location | Akihabara (Tokyo) |
| Hotel | Sotetsu Fresa Inn Higashi Shinjuku ($56.78) |
| Daily Tip | |
Today's Japanese Lesson
| English | Pronunciation | Japanese |
| --- | --- | --- |
| Delicious | | |
| One More (bottle or glass) | | |
| This one, please | | |
Map of Travels
Another morning waking up feeling good but a little sluggish given the abundance of drinks consumed the evening before. It took me a little longer than I'd hoped to get out of bed but today is my first Saturday in Japan and I already had the day pre-planned around my visit to Akihabara which is an area of Tokyo known for its otaku culture. The area is most recognized for its ridiculous amount of themed maid cafés, anime shops, patrons dressed in cosplay, and arcades that allow you to escape the reality of the current crisis disrupting the world. As a huge fan of anime I was super excited in anticipation for this day.
Otaku Culture
Cosplay
Favorite Anime List

Basically otaku culture (or being otaku) means that you fantasize about anime (Japanese cartoons) or manga (Japanese comics). It's like calling someone who plays a lot of video games a gamer. There are a lot of stereotypes but you can read a good article describing more here.

Cosplay, a portmanteau of the words costume play, is a performance art in which participants called cosplayers wear costumes and fashion accessories to represent a specific character. Cosplayers dress as their favorite characters and some even spend months creating their own unique costume from scratch. Typically referred to when people dress as anime characters, a cosplayer could also be someone dressed Superman and so on.

I actually once went to Seattle Washington for entire week to attend an anime convention which was filled with thousands of skilled cosplayers even mimicking the character's mannerisms.
Shield Hero (fantasy)
Little Witch Academia (fantasy)
Haikyuu (sports)
Prince of Tennis (sports)
Hajime no Ippo (sports)
Hyouka (slice of life / mystery)
A Silent Voice (drama / slice of life)
Your Lie in April (musical drama)
Future Diary (action / drama / horror)
Parasyte (action / drama / horror)
Classroom of The Elite (psychological)
Vinland Saga (historical / action / drama)
One Punch Man (hero / comedy)

Here's some of my favorite & less known anime – I left out some larger & obviously popular titles. Learn more about my favorite anime on this

blog post

showcasing my top picks.
I've still had no success on actually activating my SIM card and the inability to use my phone without Wi-Fi was slowly becoming an issue. Knowing that another day of exploring with the need to seek access to free Wi-Fi could cause some hindrances, I dedicated some time in the morning to screenshot basic directions and wrote out most of my day's plans on my phone before leaving the hotel. To complicate things a little more, I blew my nose and had some blood residue on the tissue which obviously caused me to freak out a little over the possibility of already having caught the virus. Anyhow, I brushed it off given there weren't any other symptoms as I continued to prep for the day ahead of me. I love listening to music, especially when traveling, and don't go out often without headphones on to assist keeping me in my mobile comfort zone. It allows me to enter into my own world and avoid unnecessary anxiety from the people or things around me. Luckily, I was able to download most of my "liked song playlist" from YouTube Music which would allow me to listen to a number of songs as I began my next exploration. I eventually got ready and hit up my newly "comfort-zoned" convenience store for a breakfast and coffee before making my way to the station. By this point I'm feeling a little more confident around the stations and happen to know that this particular one had destinations in English. I purchased my ticket and prepared to board the soon arriving train.
It's important to note which platform and train line you're boarding. Also, be sure to note the time of departure - most trains are right on time and I've made the mistake of boarding a train from the same line at the same platform 2 minutes early and ended up going to a different destination.
After a bit of rocking out to my music and avoiding any unnecessary contact with other train passengers, I finally got to what I believed was the Akihabara station. I made my way out of the nearest exit and my uncontrollable smile returned to my face as I gawked at the filled streets and abundance of shops that lined the smaller alleys leading in just about every direction.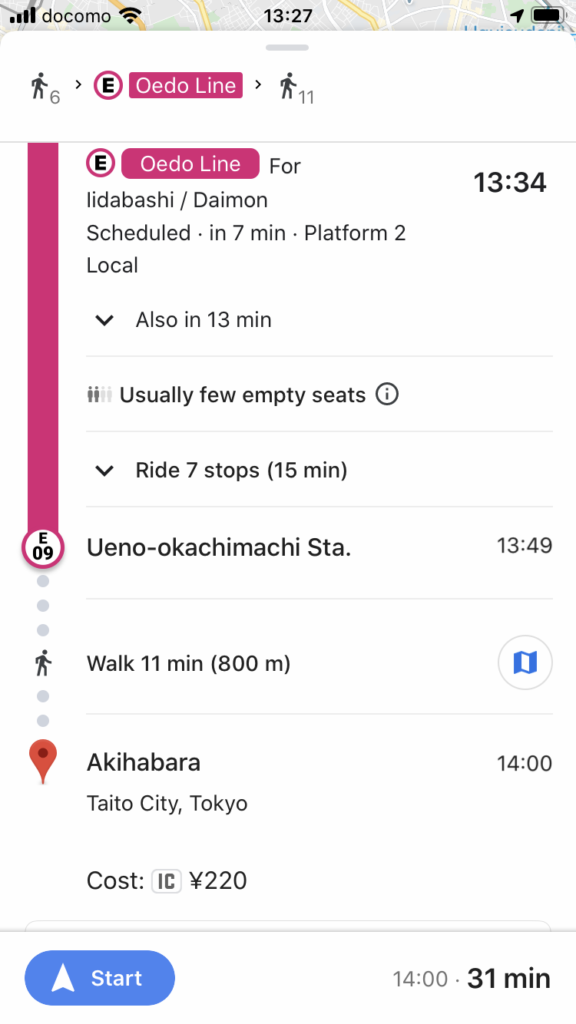 Without overthinking it I began my way down one of the streets and remained in awe by the immense variety of things you could buy here. I continued to venture down different streets for about 45 minutes before returning back to the area near the station. I personally like to stay within the vicinity of a station while exploring as most of the good things are located near there (and most stations have free Wi-Fi!). You do need to weary of "tourist trip" locations usually positioned near the stations as well. There was also a large park located nearby that I decided I would explore next. I picked up some Onigiri and an energy drink prepping for a long and exhausting day filled with new experiences. I made my way to a bench and enjoyed my Onigiri that I now knew how to open confidently. I took my time and enjoyed the surroundings and eventually began my exploration of the large park. I proceeded to checkout out some statues, found an awesome shrine, and witnessed some pretty talented street performances. Apparently there was a zoo located in the park as well but I didn't have time to venture that far in. Speaking of zoos and cages, I also noticed a small cage-like structure in the middle of the park which was an area for people who wished to smoke. It wasn't walled in a way to keep the smoke in but it was interesting to see several business-looking gentlemen pacing around the small box while they choked down a quick cig. I was fortunate to locate some Wi-Fi near what seemed to be a large public library and utilized it to check on my location now that I was beginning to question where the anime shops, bright lights, and cosplayers were hiding. After a quick google search for "maid cafes", I came to realize that I had gotten off one station too soon and was actually at the Ameya Yokocho Market. While this was kind of a "bonus" discovery given the area was actually pretty awesome, I now acknowledged my need to make my way to the actual Akihabara to not only explore, but connect with my next HelloTalk acquaintance! Since it was only about a mile or so to Akihabara I decided to walk and enjoy the scenery opposed to jumping on yet another train for just one stop.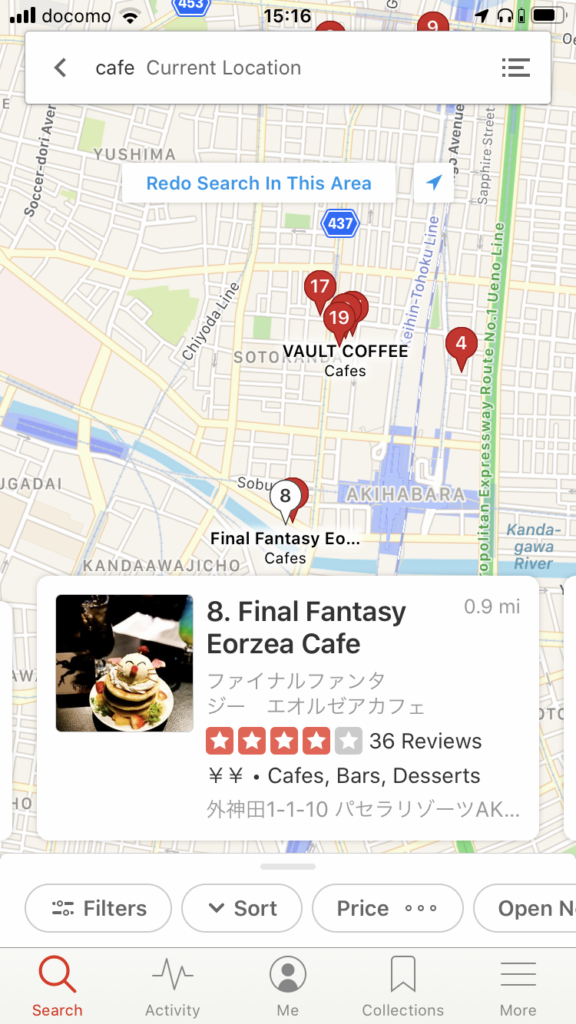 As I mapped my course and began my walk, I quickly realized I had acquired a bloody nose with a slight drip beginning to stain the inside & outside of my mask. Unpleasant and surely unsightly, I quickly ducked into an ally and checked my mask with the fears of the virus swelling inside of me. I took my mask off and quickly stopped the bleeding just as I realized my nose problems had come from me wearing my medical mask a little too tightly around my nose (I have a kind of awkwardly shaped nose). The blood from the morning occurred because I'd damaged some vessels in my nose with the bendable wire inside of the mask. Although I was relieved that this was all it was, with my already existing language barriers it'd be difficult to explain to any bystanders that I wasn't suffering from a randomly occurring & death threatening virus-inflicted symptom. I quickly tossed my mask into a very conveniently located trashcan (yes yes, I know probably not the best disposal of a bloody object). I opened my bag which doubled as a Harry Potter-like bottomless backpack considering all the things I had stored within it, and pulled out my cloth black ski mask which thankfully lacked a metal bar and was much more comfortable on my face (more stylish but less medical looking). I practically skipped down the street now relieved & excited that the morning blood hadn't been caused by the virus and that I was slowly approaching the real Akihabara.
I arrived at the large Akihabara JR station and felt I'd finally arrived at the promised land. While holding back the overwhelming excitement and pure joy swelling inside of me, I kicked things off by visiting the Final Fantasy VII Café which is located conveniently in the shopping area attached to the station. The café looked entertaining and the drinks looked amazing but with my already belated agenda I didn't have time to stop and smell Aries' flowers (Final Fantasy joke). I made my way to the shop which was slightly underwhelming given the much-anticipated revised game would be launching within a few weeks (although they did make the most out of the small shop space). While taking in the all the nostalgia I made some quick navigation and agenda changes with the use of the station's Wi-Fi.
I checked in with my upcoming evening adventure partner whom I'd be meeting with within the next few hours. Given her English level was about a "C" grade it made things a little difficult to coordinate when and where we'd convene. After exchanging a few messages, we had a time set and had agreed the station would be an ideal meeting point (especially convenient since I could use the Wi-Fi to update any last second changes). I'm quite baffled at how people used to meet up without instantly being able to be like "Wait, which exit are you at?", "How far away are you now?", "What are you wearing?". I continued my customary routine as I strolled down the busy streets of Akihabara wandering into the occasional store or arcade in order to slowly mentally map out and familiarize myself with the surroundings.
Much like what I do when arriving in most new areas, I do some online research prior to get an idea of what I want to see or where I want to go, then once upon arriving I'll go wander to get a visual and familiarize myself with the area, and lastly, I'll circle back and go to the places I actually want to spend time in and visit.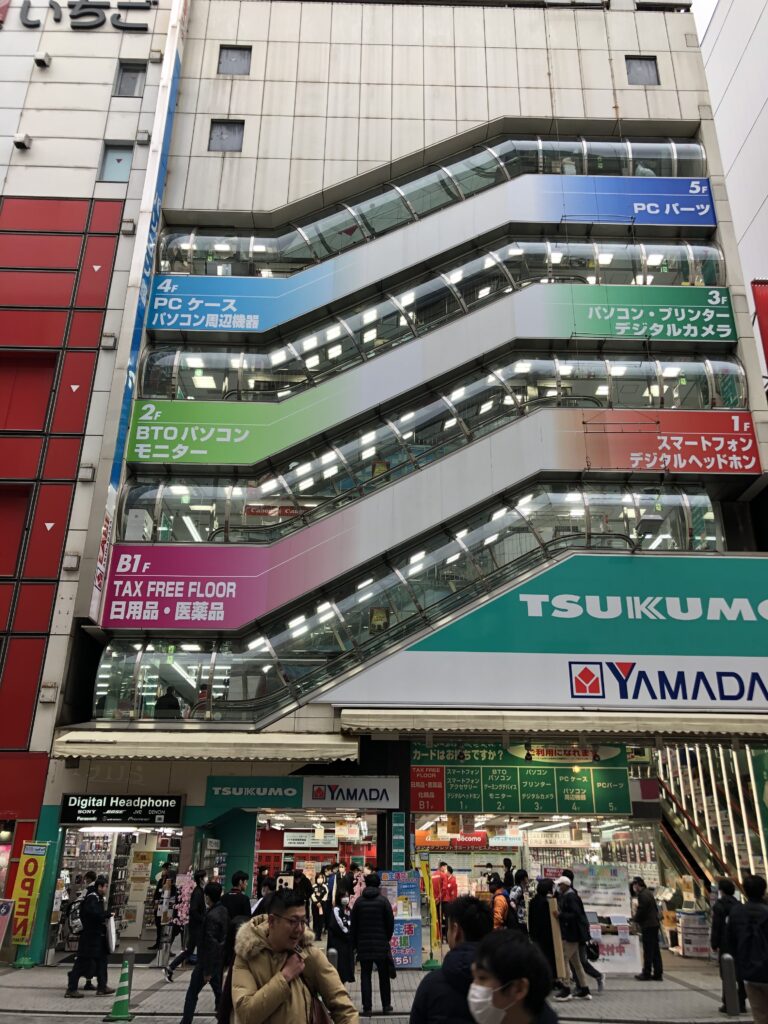 I knew I was on the clock with my rendezvous quickly approaching but I curiosity got the best of me and I made my way to the top of one of the larger anime-themed shopping buildings. It was 7 floors with each floor featuring different games or anime and providing countless things to purchase. I scanned the shelves quickly thinking about what I could pick up to bring for my soccer kids as I had about 25 of them to buy souvenirs for. Models and action figures appear to be a big deal in Japan as most shops are more filled with figures of popular shows or games than clothing or other accessories. Once back at the bottom I checked in with the help of the nearby station's Wi-Fi. Turns out I had a little extra time to play as my companion was running a bit late. I still had about another hour before needing to meet up with her at the station. After a little bickering with my shoulder angel & devil, I'd decided this would be a perfect opportunity to explore one of these famed "maid cafes" and see what all the hype is about. The evening was slowly approaching and at this point many of the maid cafes had transitioned to post one of their staff on the sidewalk to try to generate some extra business. Competition was harsh, especially with the lack of tourism currently suffocating Japan, and the only real differentiation that I noticed was the unique outfit styles. I decided to use my google maps to locate a cafe that would fit my needs. I found one that was nearby and located on the 3rd floor. Once I got upstairs I was too timid and nervous to enter so I hangout and crept around in a nearby shop eyeing the door to see what kind of people were coming and going. I was able to peak inside and it really didn't live up to my exceptions and seemed a little too simple. I eventually fell victim to my nerves and opted to walk around a little more, build up some confidence, and then find a different location to visit. Once again, not really being interested in the "tourist trap" areas, I began to make my way a little further from the station to a side street that I'd discovered during my earlier explorations. I continued down the street and got caught up for a second checking out a second hand computer shop. I was casually on the market for a laptop to allow me to write my blog and do some basic things that my iPad lacked. After comparing some pretty legit deals I made a mental bookmark of the shop location as I continued my journey in search of an ideal maid café. I hadn't realized at the time, but the further I got from the station the less likely I was of finding an English-speaking maid. Regardless, I was anticipating some good eye candy and wasn't really as interested in having an engaging conversation. I noticed a nice sign at the bottom of some stairs depicting " a devilish maid cafe" and while that's not my #1 preference, the minute hand ticking in the back of my head was enough encouragement to roll the dice. I continued up a few flights of stairs and to the maid café which was located on the 4th floor (check the random-floor-meaning-a-fun-spot box). As I entered, I was greeted by a mixture of awkward glares from the current patrons to some confused "welcomes" from the maids. I was led to a small table near the corner which had a booth side against the wall (facing the room) and a chair side, ultimately facing the wall with an awkward angle to stare at the nothing or my neighboring customers. Okay, so I kind of panicked a little and made everything awkward by sitting in the chair side and then quickly realized that everyone else seated in this area was situated against the wall so that they could interact, see, and speak with the maids. A little embarrassed by my decision, but with my ego despising me looking like an amateur, I decided to stick it out despite the glares from my neighbors. I was given a half-English menu (becoming pretty common that they don't even ask me anymore) and I began my search for something, anything, that looked familiar from the anime I've watched. Regardless of the English, everything on the menu had nice hand drawn pictures of what the dish or drink was. As expected, the dishes and drinks met my expectations which had been set pretty high from the abundance of anime I've watched. I found out on page 1 that it was required that you order at least one drink and one dish.
While most bars charge a "cover", many restaurants or other places will require each patron to order a minimum amount in order to "sit".
A maid approached me to chat and quickly concluded that my Japanese skills was quite lacking. Despite that, I was still able to order myself a beer and an egg omelet over noodles, a pretty common order throughout the anime I've seen. Now mentally lecturing myself about my misperception of how long an hour would last me, I tapped into the café's internet to check on my timeline for the adventure that still awaited me the coming evening. She was right on target to get into the station within the next 20-25 minutes and I was at least a 15-minute walk away from the station. I had just finished placing my order and maid cafés aren't known to "rush you along" as much as they're there to "serenade" you in conversation, performances, and songs. It seemed like forever but my food finally arrived with the inquiry from the maid in broken English of what I'd like drawn on the omelet. They draw pictures using ketchup to add a special touch to the experience. Many different items on the menu come with some "added bonuses" that you usually just have to discover after ordering. Already having my heart-rate accelerated in the fear of being late to my appointment, and knowing that the Japanese are pretty punctual, I just let her do whatever design she wanted which turned out to be a classic cat with some scattered hearts around it. It came out super cool but was a bit unfortunate that photos in maid cafes are pretty frowned upon (although you can obviously pay a little extra to get a photo with the maids). Personally, the few times I did turn and scan the room, which was mostly filled with older men, I wasn't personally too impressed with the overall attractiveness of the maids. Again, being a little stressed for time, and about to actually go to a real dinner, I scarfed my food down with the assistance of yet another beer and quickly made my way for the door. I secured some more awkward glances as I'd turned what should've been a long relaxing stay into a quick in-n-out meal. Regardless, I accepted my "farewell" from all the maids, gave a little bow, and rush down the street in the direction of the station. It was now starting to slightly drizzle which was a nice icing on the cake for how this meeting was shaping up.
Bowing is traditional in Japan is ingrained in their culture when greeting people, saying goodbye to people, and just for showing respect to others. I bow when I have to step in front of someone at the store or even as I enter and am greeted by the clerk. Some business people get into some pretty intense bowing competitions upon saying goodbyes. The lower you bow the more you show respect or appreciation. If you're ever in doubt in Japan, just bow.
I successfully made it back to the station just in time to hop on my handy-dandy Wi-Fi to check in on which exit we're actually supposed to be meeting at. The station in Akihabara is pretty big and while there's some English instructions, it is quite limited. After about 20 minutes of confusing messaging back and forth in an effort to locate each other, we finally met. We decided to explore a little more of Akihabara (I didn't mention that I'd pretty much explored most of the area already). We made our way down the busy street and wandered into some of the relatively full multi-floored arcades to check out the different types of games. On the 5th floor of this particular arcade, there were tons of interactive games such as Dance Dance Revolution and many others. For some reason I'm not a huge fan of arcade games even though I'm a huge gamer. My companion seemed pretty set on us playing a game together and the outcome left us in front of this drum game that looked kind of fun. I'm not very "rhythm" oriented so I wasn't too stoked to play a game that looked like a drum version of guitar hero, but was also in "give anything a try" mode at this point. We inserted some coins and started up the game. I was a little nervous since everyone around us was dominating their respective games on the hardest settings, obviously all being pretty regular arcadees.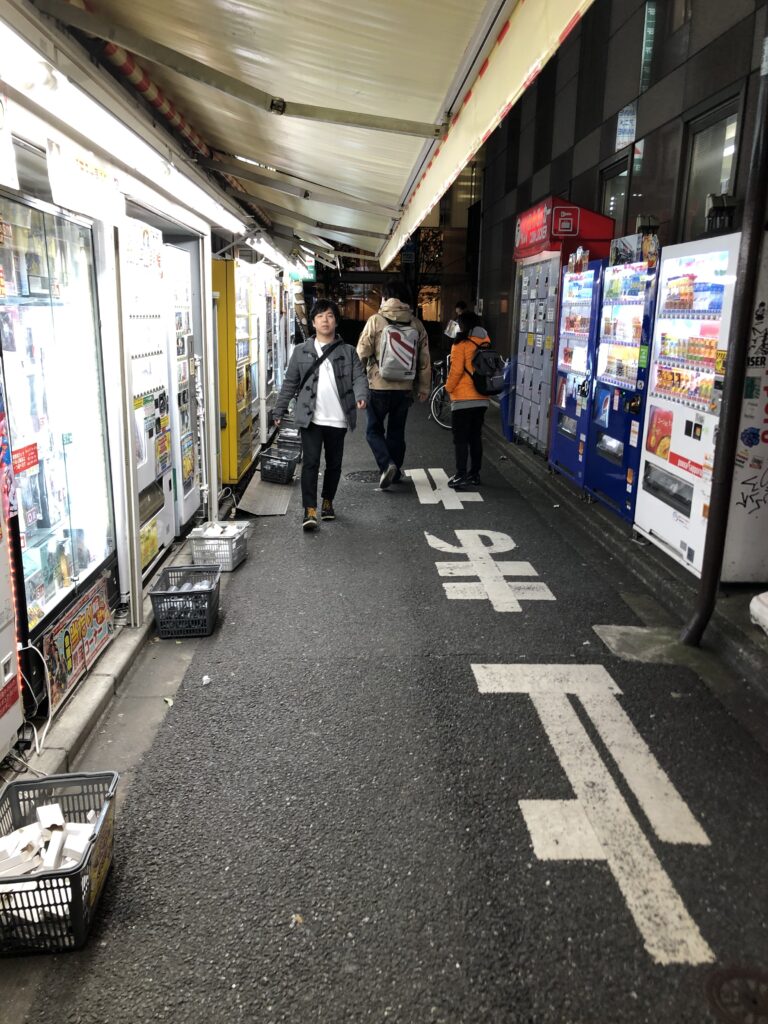 We started off on the easiest mode and the game was actually relaxing and pretty fun. We proceeded to beat our drums for a few rounds while building out confidence and enjoying the simple motor skills. Little did I know that this would be my first hint that for some random reason people in Japan love challenging me to random things. A Japanese local decided to come over and watch me for a few seconds before inserting some coins into the drum game literally right next to me (there was a whole row of open stations). He proceeded to set his mode to expert and began to dominate the levels at a high pace while I was on his left banging the drum once every few seconds and rocking out to my own beat. While trying my best to ignore the quick bangs and bongs coming from my right, we finished playing our coins worth and headed back downstairs to see what the basement had. The dark, cool, and quite noisy basement was filled with some kind of Gundam game which everyone seemed to allow everyone to team up and compete against each other. It honestly looked pretty captivating and was obviously pretty popular judging by the 20 or so people currently engaged in combat. I fought off the urge to blow off my new guest and just hold-up in the basement for the next few hours.
We finally made our way out of the arcade building and decided to scour some nearby shops for possible souvenirs that I could bring back for the all the people I'd decided to get something for (friends, family, and the soccer kids I coach). After some window shopping, we settled on the plan of getting dinner and that kicked off our new journey in search of some supposedly well-known ramen shop. The rain was persistent and it didn't help that my navigator was having a little difficulty with the directions herself. Eventually we came upon the popular ramen shop and after securing ourselves a rather cramped corner seat, were able to enjoy an entertaining conversation and treat ourselves to some delicious ramen & beer.
After dinner, a few beers, and practicing some Japanese, I felt that I'd already walked most of Akihabara and exhaustion was slowly beginning to set in. As I began to mentally prepare myself to say my goodbyes and head back to Shinjuku solo, my companion had the bright of idea of hitting up Asakusa and visiting Senso-ji which is another famous temple surrounded by a very popular area known for its shops. I threw my exhaustion into the backseat as I refused to allow this offer to pass me by. As we made our way back to the station I had to laugh a little at the misery that the maids were currently experiencing with about 20 of them standing about 5-6ft apart in the rain all trying to lure patrons to their respective establishments. It reminded me of a much more subtle version of the guys in Vegas who stand on the corners and try to holler at you to checkout their club while stuffing cards and flyers in your face. It was about 8pm now but as I continued my "make the extra effort to see everything" phase of the trip my excite began to build for the opportunity to see Sanso-ji without having to fight the masses. We purchased train tickets and began our trip to Asak­usa which was only a few stops away­­­­.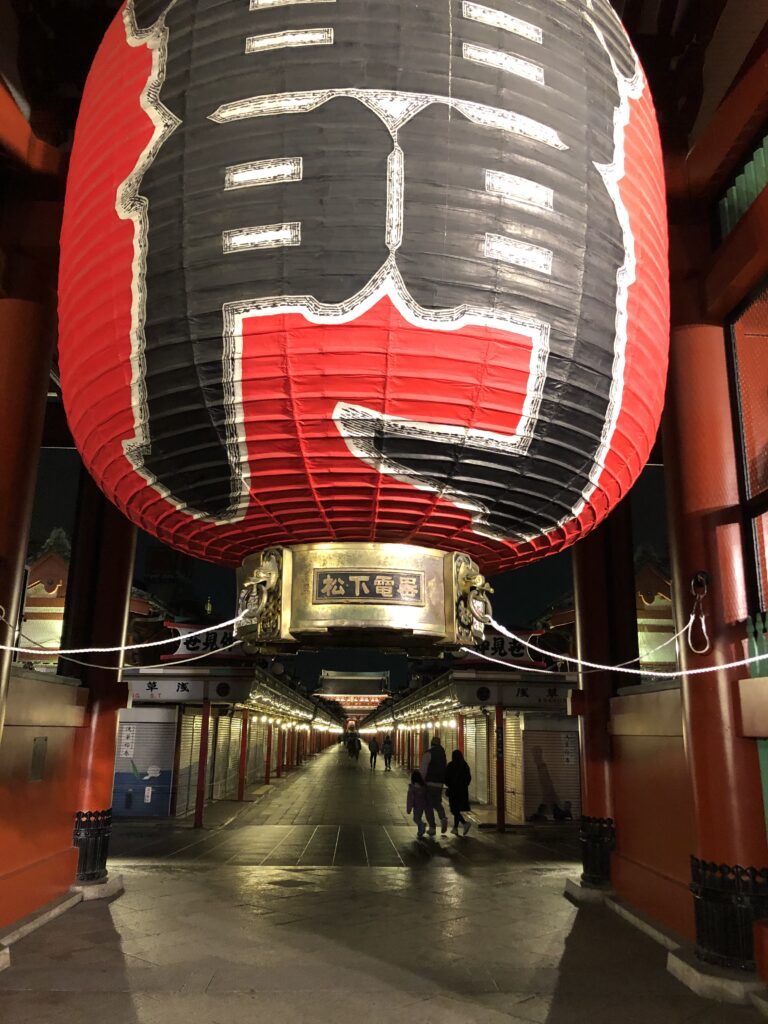 Asakusa is known mostly for the Nakamise Shopping Street (Orange Street) and it's Instagram-famous Kaminarimon Gate. The massive gate greets you at the entrance and as you continue you're consumed by a walkway consisting of hundreds of small shops and finally you arrive at the temple. After arriving in Asakusa we headed straight upstairs from the nearest exit and we found ourselves right at the entrance to the gate. We proceeded to snap some photos and while most things were closed, I could easily imagination the bustling and hustling that occurred daily in the small walkway riddled with shops. This was my first time seeing one of the many temples to come and I was in complete awe by the scene unfolding as we crept closer and closer to the magnificent structure. To top things off I could spot the famous Tokyo Sky Tree located off in the distance and lighting up the night sky. After snapping some more photos of the temple and gawking in amazement at itself and its surroundings, we headed into the neighboring streets which are scattered with Izakaya and bars. We picked a nice little Italian-themed wine bar to grab a glass of wine and a beer accompanied by some snacks. It was here that I learned one of the most valuable phrases to date, "moi ippai", which basically means "one more" but would be referring to one more drink or bottle specifically.
Counting things in Japanese is pretty confusing. They have different prefixes to accompany their numbers depending on what it is you're counting. They call them counter words and you can read more about them here.
Now the exhaustion was hitting level five dangers as I finished my beer. I was now definitely ready to return to my room and sleep for the indefinite future. I'd walked and seen so many new things over the past few days and it was slowly catching up to me. We slowly strolled back to the station and said our goodbyes as I quickly once again utilized the Wi-Fi in order to map my course back to the very welcoming comfort zone I so desired.