| | |
| --- | --- |
| Date | Tuesday March 10th |
| Days in Japan | Day 7 |
| Location | Tokyo -> Nikko |
| Hotel | n/a |
| Daily Tip | |
Today's Japanese Lesson
| English | Pronunciation | Japanese |
| --- | --- | --- |
| Recommend | "o su su meh" | おすすめ? |
| It Is | "des" | です |
| Is It? | "des ka?" | ですか? |
Map of Travels
Just Another Friday in Japan
Time for my first day legitimately outside the Tokyo prefecture and adventuring into another area of Japan. I wouldn't be traveling too far, or for too long, I was excited to get the opportunity to see some other parts of Japan. I spent the morning packing my bag and preparing to checkout of my hotel. Many of the hotels, especially the business hotels, have an early 10am checkout although you can pay extra to extend hourly.
I was able to get downstairs and checked out just in time for Rui's arrival to pick me up me up from my hotel. She'd traveled all the way to Shinjuku just to help me navigate my way as we were heading to the Tokyo Station in order to catch a chartered bus that would take us straight to the resort. The bus ride would be a little over 2 hours heading through the countryside and into the mountains before arriving at the beautiful area known as Nikko. We walked to Shinjuku Station and after a quick train ride we'd made it into downtown Tokyo which I had yet to really explore. We didn't have much time for sightseeing and needed to locate the depot for the bus which was outside in a nearby lot. After a little phone navigating we came to the lot and had just enough time to take a quick bathroom break and raid the vending machines for some drinks and snacks in preparation for a long trip. After getting quite a few items from the machines we made our way to the bus attendant and checked in. The virus hadn't really shaken Japan yet but there were slight precautions that were beginning to show face. The bus only had 4 different couples on it but they had conveniently spaced our assigned seats relatively far from each other which allowed a more comfortable trip. I threw my luggage under the bus after receiving a few confused looks given we were going for one night and I literally had all my belongings with me. I was the only foreigner out of the select few people that were heading to the resort but considering that this was a pretty classy and locally famed resort, I imagine it's frequented more heavily from natives opposed to tourists. I was so excited for the trip that it was difficult for me to sit still and I was glued to the window as we started our adventure by circling the Imperial Palace and then heading out of the busy city environment of Tokyo and into the countryside.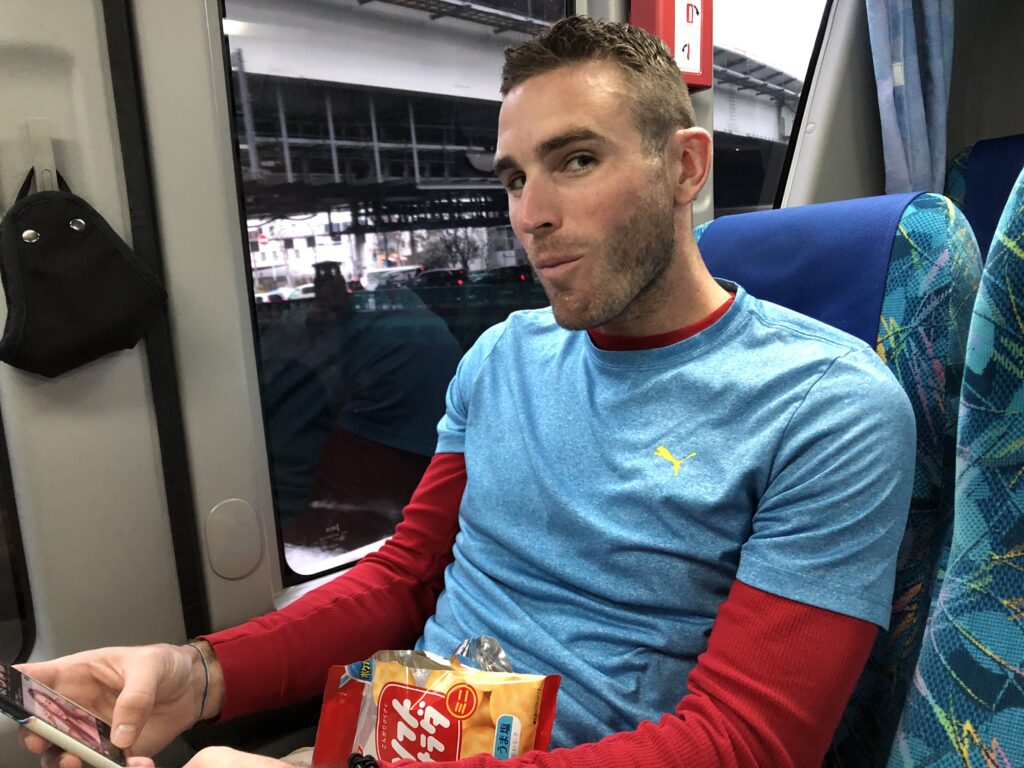 Rui became the self-proclaimed photographer for the trip as she kicked things off by snapping tons of photos of us hanging out on the bus. After about an hour or so on the bus we came to a rest stop which reminded me of the stops I'd been to in New Jersey. Basically it was a huge shopping strip with tons of souvenirs, food, drinks, and some bathrooms. If you've never left the west coast you may not have seen something like this before. They aren't official "exits" from the freeway and are more like just turnoffs along the side of the freeway with tons of accommodations. Regardless, we stopped and used the bathroom as we restocked on some Japanese snacks and eventually made our way back onto the bus. I'm still experimenting with a lot of different candies and snacks so I took this opportunity to stock up on lots of foreign things. The first hour had consisted of getting out of Tokyo and crossing through a large portion of countryside which featured lots of cool little towns and tons of farmland. The second hour would be where we began our climb into the mountains which was noticeable given the drastic temperature change that corresponded with the altitude climb. I was able to utilize some of this time to remap out my plan and list of cities I'd hope to visit throughout my stay.
As we neared our location the bus attendant went over some basic guidelines (in Japanese) and threw on a little video reviewing onsen etiquette and how to properly use them. The video was in English so I'm pretty sure I was the target audience for the comical cartoon which depicted the "do's and don'ts" of onsens. We finally arrived at our destination which featured a massive and beautiful lake and a small quiet town. I was super excited as we entered the lobby and were greeted with tons of artifacts and a beautiful hallway leading to the receptionist desk. It was also quite nice that no one was wearing masks as we were pretty secluded out in nature. We continued to the front desk to check-in with our road trip companions and soon were off to our room. Once we got to our floor (4th & highest floor) we stepped off the elevator and into a small room with a bunch of cubbyholes in which we took our shoes off and then proceeded to put on some "indoor" shoes to make our way through the hallway and to our room where we'd be removing those shoes before walking around as well. The room was awesome and huge! It had perfect views from the bed of the lake and it's surroundings. We quickly slipped into our Yukata which are traditional Japanese "indoor" wear. The standard size was a little small for me so Rui called the front desk and had a larger size delivered. We knew we had 24 hours in the room and could enjoy it more later, for now we wanted to explore the resort a bit more and slowly make our way towards the onsen before heading to our schedule dinner in the dining hall. We proceeded to wander around the resort as Rui insisted on snapping a few dozen random photos of me to highlight the scenery. We were both so hyped to be here and the place was everything we could've imagined. We explored quite and bit and then returned to our room to prepare for our visit to the onsen prior to dinner. I was pretty nervous of using the onsen for the first time and worried I'd embarrass myself around a bunch of Japanese natives. Our shower in the room had a beautiful wooden interior and was designed slightly like the bathing stations at the onsen (it had a little wooden stool and bucket). I decided to take a quick bathe in order to practice a little before actually going to the onsen. Once I finished bathing Rui prepared some of the tea that was left for us in the room and finally after soaking in some of the views we decided to make our way to the onsen.
Per Wikipedia, an onsen is a Japanese hot spring; the term also extends to cover the bathing facilities and traditional inns frequently situated around a hot spring. As a volcanically active country, Japan has thousands of onsens scattered throughout all of its major islands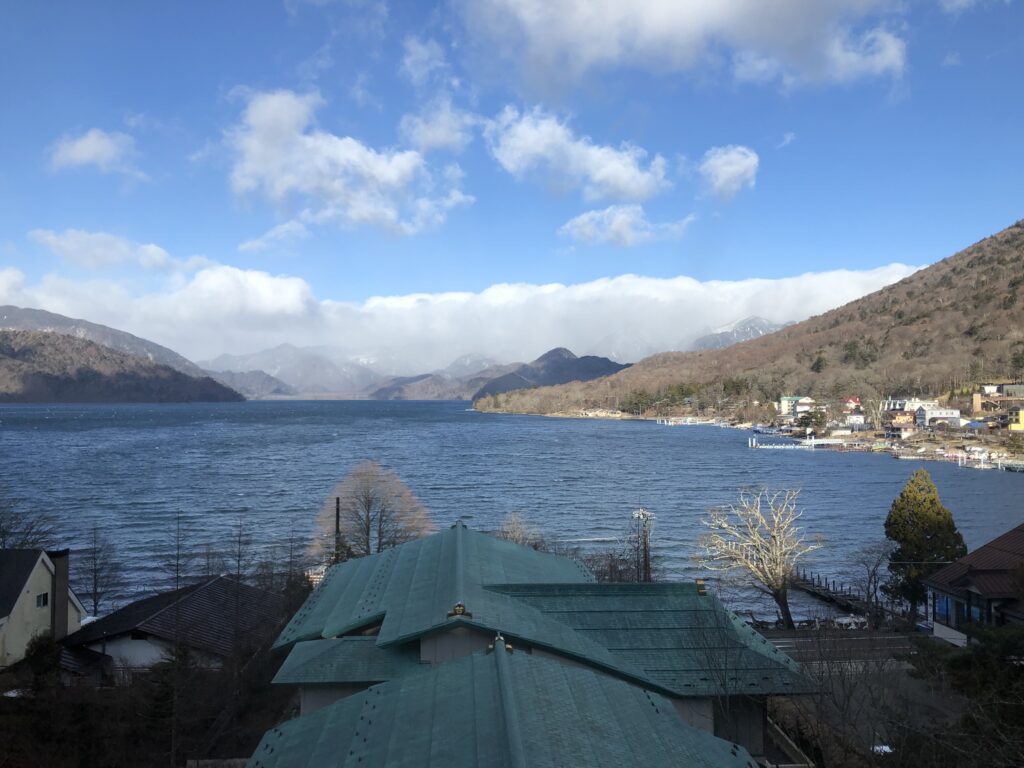 Most onsen have a coed lounge area in which you can relax or enjoy some refreshments after soaking for awhile. From the lounge you can find separate men's and women's entrances to different onsen baths. Since this was my first onsen experience (although I've been to some fancy spas before), I wanted to read up a little more on the etiquette and manners as to not expose myself as the inexperienced foreigner. There were some placards located around the lounge that featured some exercises & stretches to do before, during, and after the onsen. They even had the English video that we'd watched on the bus playing on repeat on a nearby TV. I took in as much info and mentally prepared myself the best I could and eventually said my farewell to Rui as she went down the hall to the women's bath and I proceeded down a separate hall for the men's. The area inside was pretty cool, there were about 8 different stations with a sink, huge mirrors, bright lights, and free amenities such as razors, ear swabs, and combs. This appeared to be the area where you could relax and do some self-care after soaking in the bath. I continued on to the locker area which basically just had some baskets on the shelves in which you'd put all of your belongs in while bathing. Let alone the fact that this was a pretty fancy place, theft in Japan is rare enough that they don't need to worry about locking up all their things when bathing. I stripped out of my Yukata and entered the actual onsen area with nothing but my small onsen towel. I'd watched enough anime in which the characters were visiting onsens to have picked up on what to do with the little towel. Once inside there were about 12 different "wash" stations which are basically single-stall showers where you sit on a small stool and thoroughly wash yourself before and after entering the onsen. As I made my way for one of the stalls to wash up, one gentleman headed into the locker area and while I wasn't able to see the outside bath, the inside bath was vacant. Once I was done washing up, I made my way to peek outside and see if in fact there was anyone else at the bath with me. To my surprise it was also vacant which meant I had both the indoor and outdoor hot spring to myself. In most of the animes (and from what Rui had told me) the outdoor hot spring is a bit more enjoyable as you can listen to the nature around you and there's usually some type of scenic garden to admire. From the studying I had completed prior, I had learned that you should take your time getting into the hot spring as your body may have a tough time acclimating to the high temperature. This particular onsen was a bit hotter than an average jacuzzi in America and it was recommended to not stay inside of it longer than 10 minutes without a break. I slowly sank into the shallow hot spring and tried to relax although my heart was beating at a faster than normal rate given my excitement of finally being in a hot spring in Japan! I attempted to mimic what I've seen in the animes which is to place the folded smaller towel on top of my head. I had soaked it slightly in colder water as it would ideally help me manage my temperature. It's important that you don't ever let the towel touch the hot spring and thus I didn't really see anyone else utilizing them the same way throughout my trip.
Tattoos in Japan are an old sign of being a gangster. They're very common on Yakuza members and if you have a tattoo and wish to enter an onsen, you can receive a body sticker of sorts to cover it up as to not intimidate or make the other patrons feel uncomfortable.
Once I was settled into the bath I began my "onsen stretches" which I'd just recently read about. I crossed one leg onto the other and proceeded to interlace my fingers into my toes as I began rotating my ankle in a clockwise motion and then a counterclockwise motion. I also did some breathing and full body stretches which apparently help with the circulation of blood while in the spring. Once I was at my temperature limit, I exited the spring and went back to a stall to wash up. As I made my way to the stall two more gentlemen entered the onsen which made me feel a little lucky to have had it all to myself for so long. I dried myself and made use of one of the "pampering" stations as I brushed my teeth and did my hair. I then got back into my Yukata and headed to the lounge area. Rui didn't seem to be out of her bath yet so I took proceeded to make use of the free pear water (it was soooooooo good) and free flavored popsicles. After having devoured about 10 glasses of this pear water and about 7 popsicles Rui finally exited and spotted me quite relaxed on a nearby beanbag. Apparently her bath had several attendees which once again made me feel pretty grateful to have my own space and be able to experience my first onsen without any issues. We made our back to the room to relax for just a little longer before it would be time for dinner. The dinner was a set menu (although you can purchase alcohol or more food). The high I'd gotten upon arrival hadn't gone away for a single second as I now was anxious to try some amazing traditional Japanese cuisine. Eventually, the time came for us to make our way to dinner where we were greeted by our own private server and host. We were escorted to our private room and given Japanese menus which was obviously illegible for me, but I wasn't too concerned as it was a set menu and it only listed what we'd be getting. We did happen to order some beers and I think the server got the hint that I couldn't read Japanese so she brought me my own English menu that showed the course.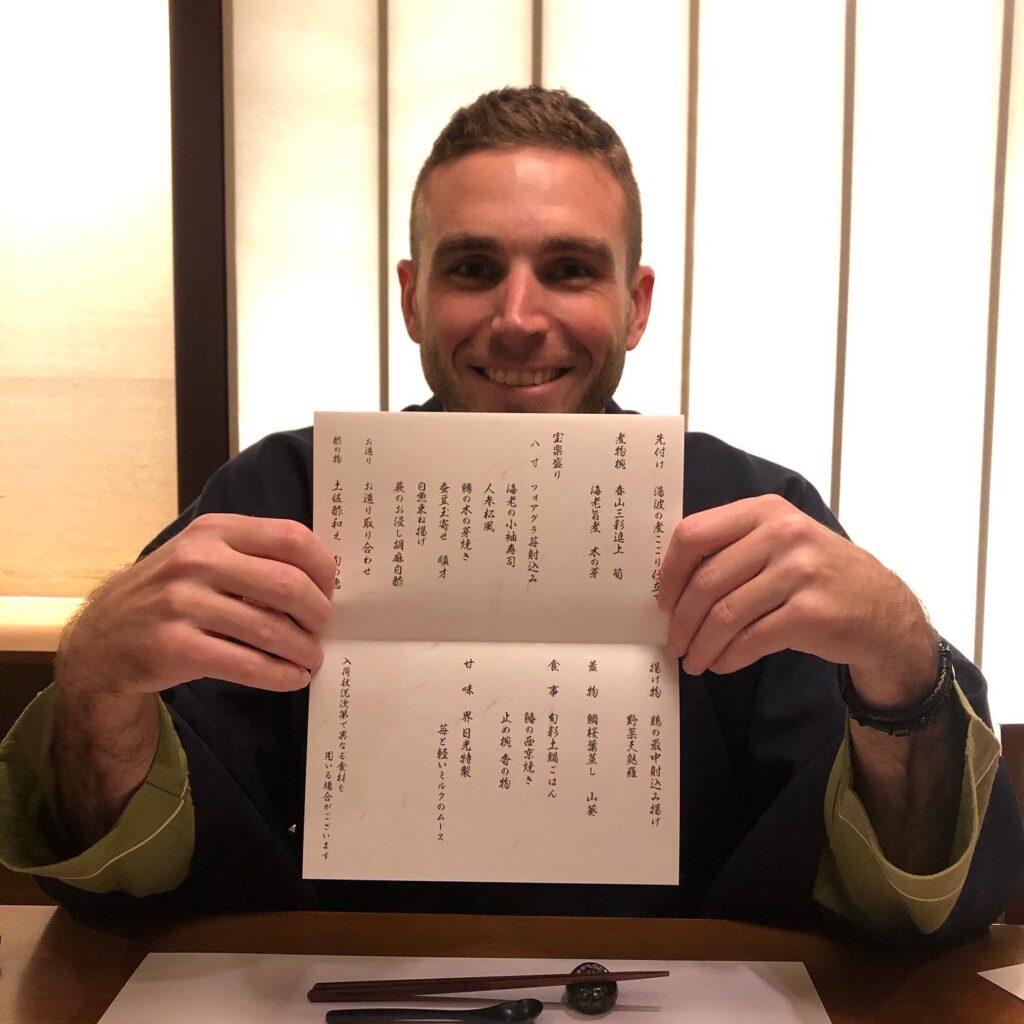 Food began to come out and it was so ridiculously amazing I can't even begin to describe it. There were many small dishes and it was just the right amount of food so that I was full but hadn't received a food coma. We had to finish our amazing desserts a little quicker as anticipated as there was a little dance show depicting the shoe-making history of Nikko. We headed out of the dinner area and grabbed some seats next to a well-lit stage. There were little brochures on each chair that explained the history and detailed the dialog of the entire performance, and of course our host brought me an English copy once we'd picked out our seats. The show was amazing,! It involved some "tap dancing" and even the small audience was able to get involved with some rhythmic chanting and cheering. Once the show ended we got the opportunity to try on the special shoes and get on stage to snap some photos with the performers which was cool as well.
"The story holds that Nikko Geta shoes were General Tokugawa's idea, who suggested placing zori on top of geta shoes. Nikko Geta shoes are "zori" shoes layered on top of "geta" shoes – but not only. In order to improve stability, the sole is carved in the back, enabling wearers to walk around town even when there is snow on the ground without having the snow stick to the sole. Better yet, Nikko Geta shoes are designed to warm the feet during winter and to be breathable in the summer. They can be worn year-round, traditionally with a kimono but also with "Western-style" clothing." – Hoshino Resorts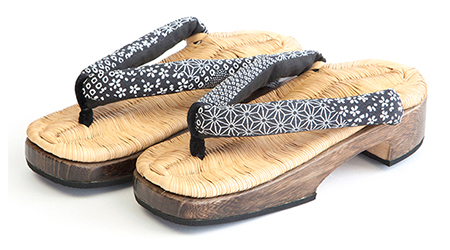 After dinner and our show, Rui and I made our way back to the room to decide what we'd do with the rest of our evening. We were feeling pretty relaxed from the onsen and had vowed to revisit it in the morning after breakfast and before checkout. It was dark now and about 9pm but we weren't quite ready for bed. We began contemplating getting some sake and snacks but the resort had a small and quite expensive sake selection. Regardless of the fact that it was now raining, we decided to venture off to a nearby store to do some light shopping. We probably looked a little awkward as we asked to borrow umbrellas from the front desk in order to leave the resort (which pretty much had anything you could want). We ignored the awkward looks and began our journey down the street and in the rain. Rui had looked up the destination and I hadn't quite comprehended just how far it was and by the time we finally came upon the store we were a bit damp and definitely ready for a drink. I headed to the snack area and Rui went for the alcohol. I joined her after picking out a variety of Japanese chips and candies as she was having a difficult time deciding which drinks we should get. There were some nice (and cheap) sake as well as some local beers. They also have these 9% canned cocktails in Japan which are far better tasting than you'd expect. Some are like 120 yen which is about $1 and you can get quite the buzz off about 2. They're basically like flavored Highballs and aren't too sweet which easy on the following morning hangover. We ended up just grabbing a handful of things to taste and try and then proceeded to checkout. On our way out of the store I had to stop and take note of the perfect fruit displayed on the shelves. The strawberries, oranges, everything, looked picture perfect and there wasn't a single defected fruit in sight. A small discovery highlighting the perfection that the Japanese intertwine into their culture. We took off at a brisk pace in the direction of our resort considering that the rain had picked up quite a bit. We finally got back and were now more than damp at this point and probably looking even more ridiculous having ventured that far in the rain to save a few bucks on sake… Neither Rui or I cared too much as we dropped off the umbrellas and headed for our room to enjoy our newly acquired treasures. We sat at our small table by the window (although at this point it was pitch dark and wet outside) and began to lay out some of our snacks and drinks. It didn't take long for our fatigue from traveling to team up with our relaxation from the onsen and boy did it kick our butts. After about 2 cups of sake we both had passed out (in relative uncomfortable positions) in the chairs by the window. I awake randomly about an hour or two later and woke up Rui so that we could make our way to the bed and get some real rest.