| | |
| --- | --- |
| Date | Sunday March 8th |
| Days in Japan | Day 5 |
| Location | Shinjuku (Tokyo) |
| Hotel | Sotetsu Fresa Inn Higashi Shinjuku ($56.78) |
| Daily Tip | |
Today's Japanese Lesson
| English | Pronunciation | Japanese |
| --- | --- | --- |
| Delicious | | |
| One More (bottle or glass) | | |
| This one, please | | |
Map of Travels
Another slightly slow morning as I'd gotten a bit overwhelmed with everything I experienced yesterday. I was fortunate enough today to finally get the opportunity to fully experience the Japanese Toilet that I'd heard so much about. I swear you could write a 5-page manual on how to use these things. There's all different kinds of buttons and functions and the seats are heated to boot. Anyhow, I did have to put a little pep in my step and hurry things along as I had yet another coffee appointment with a HelloTalk acquaintance and then would meet up with Rui before attempting my first debut on a Japanese pitch! I had agreed to meet my next acquaintance, Mai, at the Shinjuku Flagship ABC Mart which is a big shoe chain in Japan. I had only brought one pair of running shoes that I had been wearing around and wanted to get myself another pair of sneakers for casual wear. I also happened to know that the specific store in question was located right in front of the station and close enough for me to access the Shinjuku City Wi-Fi allowing us to be able to communicate and find each other easily. I headed to the store to wait in front and it didn't take long for us to connect and get through the usual broken-English greetings. As I've mentioned before, it's somewhat difficult to locate people and also tell how cute they are given everyone is wearing a mask covering most of their face. This just means your best option is to suggest food or drink so they can remove the mask 😉. Mai's English wasn't bad but not particularly fluent (aside from Rui, most of the people I'd interacted with could only speak broken English, but I can't complain because my Japanese was just as broken.) We made our way around the store and eventually upstairs to the men's section which featured a variety of unique shoes, making my decision making quite difficult as I enjoy wearing something a little different but not something that'll attract a whole lot of attention. I finally decided on a pair of grey Vans that had pink soles which was kind of a cool combo. I successfully utilized my companion's ability to translate the sale for me. Understandably, they had a difficult time finding a pair in my size as many shoes and clothes are slightly smaller in Japan. We finally settled on a half-size difference from what I was looking for I and was content with the purchase.
I learned at the register upon checkout that if you have your Passport with you, many stores in Japan can give you a "duty-free" purchase which basically evades the 8-10% tax. 
The pair of shoes I was buying were close to $100 so it would've been nice to save the $10 but I also wasn't about to start carrying my Passport around with me everywhere. At many stores, when paying with your credit card, you have the option to either pay in yen or dollars, which at the time doesn't really make much of a difference but if the transaction doesn't go through for a day or 2, the yen-to-dollar could change and you may pay slightly more than you initially thought. I happily skipped out of the store in my new shoes eager to show them off and strut around Shinjuku with confidence.
We proceeded to explore the area in search of a coffee shop while managing some basic conversation and eventually landed on Komeda's Coffee which Mai assured me was a relatively well-known coffee chain in Tokyo. I was slowly learning that most of the good places were located somewhere other than the first floor as we made our way to the 2nd floor and into the warm-welcoming coffee shop. After some hand sanitizing, we made our way inside and to a booth where we were greeted with menus and warm hand towels.
Once seated in most establishments you'll receive a warm hand towel which are called Oshibori and they are a neatly rolled wet towel that can be warm or cool depending on the weather. On a cold day, the towel would be warm while on a hot day, the towel would be cool. It is served for you to wipe your hands before your meal. Most places don't actually have napkins so you hold onto your Oshibori and use it as a napkin during your stay.
The shop was relatively busy and I was surprised to see a small army of staff busily scurrying around the shop quite enthusiastically. I made note of the fact that in America a similar shop would probably have half the staff to save a few $$ and most of the staff would be tired, lazy, or counting the minutes until they were off.
We were able to place our order from a small monitor that was located at the end of the booth which also featured some extra photos of the menu items to help me evade the need to read Japanese yet again. We ordered some coffees and some pastry snacks that literally came out picture perfect. The whipped cream and ice cream in Japan are something you have to see to believe. Every time I get either they are so perfect and thick that it exactly matches the pictures which is a pleasant surprise. After enjoying our coffees and snacks we continued our conversation and eventually took our leave.
Per my experiences, it seems pretty normal for the women in Japan to split the tab with the men which is a nice surprise since they seem to appreciate it a lot more when you pickup the tab (opposed to women just always expecting it in the US). Once we got downstairs we both agreed that we wanted to hangout a little longer but neither of us knew the area very well. We wandered around and found ourselves in front of the Robot Restaurant which is a HUGE tourist attraction (and local favorite) in Shinjuku. Apparently it is a large robot dance show of sorts that involves music, lights, and some food. Unfortunately due to the virus the restaurant was closed for shows but you can see a pretty cool video of the experience here. I recommend it based of other recommendations!
We continued on and even found a small Mexican restaurant that was I far too frightened to even venture into. Eventually we came across a small Izakaya that featured some gyoza photos in front. I'd been turned onto gyoza from an anime that was currently airing in which the main character scarfed down gyoza relatively regularly. We deiced to pop inside so I could order up some of these dumpling-like treats.
This is where I officially realized that you need to say "su mi ma sen" to make an order. I've seen that many Americans and other foreigners had given tons of bad reviews about places being "racist" or giving "poor service" simple because they hadn't taken the time to understand the culture.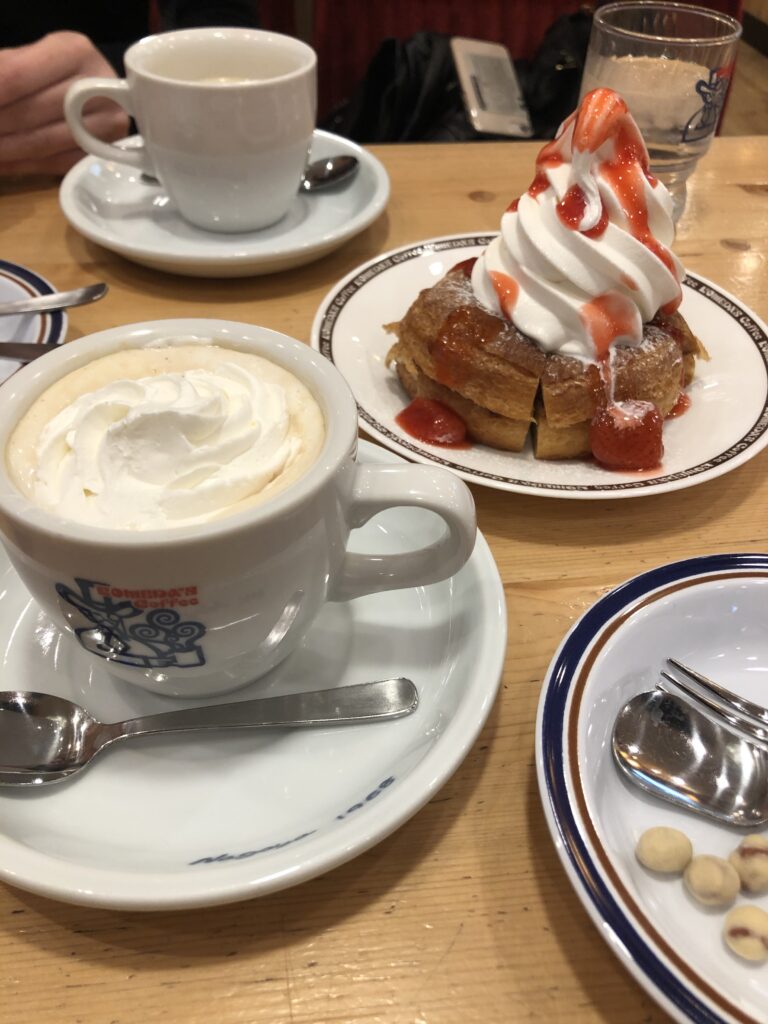 We proceeded to order a ton of gyoza and tried some other snacks as well. Aside from Mai and myself, there were only five other friends in the Izakaya. I had been under the impression that all Izakaya served the same food and that it stood for "a type of restaurant". That was a poor assumption as Izakaya basically just means a Japanese-styled restaurant that focuses primarily on drink consumption. Anyhow, as we ordered and as we began in small talk I noticed out of the corner of my eye that the other customers were crushing, like literally chugging, their cocktails and beers. They also were smoking indoors which as I've stated before, is quite common. Unfortunately Mai wasn't too keen on the smell of smoke so she felt a little uncomfortable by it but they were far enough away it wasn't too big of a problem. Our food finally arrived and I was able to dive into the wonderful world of gyoza that I'd fantasized so much about. I kept eyeing our neighbors who wouldn't let up on the drink consumption and I was starting to get flashbacks of being with my friends back in San Francisco. At one point I made eye contact with one of the gentlemen and he quickly spoke Japanese to Mai and I froze, assuming he was calling me out for my constant jealousy of him and his friend's high spirits. Turns out he was simply complimenting Mai on her English, having ease dropped on our conversation himself. Emotions ran high as I continued my meal and consumed a few more beers and countless gyoza – the other patrons brought my energy level up! Mai isn't too big on drinking but she was having herself a highball and attempting to entertain me in conversation. The time eventually rolled around for me to make my leave as I had to meet up with Rui and then proceed to make my first official appearance on a Japanese pitch.
We said our goodbyes and to my surprise (after having shocked Mai with my beer and gyoza consumption) agreed to meet again tomorrow for another adventure. I then headed back to the hotel to prepare for Rui's arrival. I was now itching to play some soccer and excited to showcase my abilities to Rui and any other Japanese spectators.
The soccer session I had planned to join was a local pickup group that was hosted by a super friendly guy from London. We'd already exchanged some conversation online and I had let him know I'd be coming to this particular session. The field they rented was an indoor "rug-like" turf so I had hoped to manage in my running shoes as I had been assured the level was pretty intermediate. Rui arrived to the hotel and was set on getting my SIM card working before heading out which led to us hanging out in the room for a little longer than we probably should've. We just missed the train by mere minutes and there weren't any other trains going to our destination in the near future. We had to make a quick decision and landed on the easiest option just hail a taxi. Unlike the US where taxi's are basically extinct thanks to Uber & Lyft, there are still tons and tons of taxi's all over Japan waiting for their next passenger. Rui let me hail the taxi from right outside the hotel which just involved a small step into the street and a raised hand (but still felt pretty good to do). A nearby taxi quickly came to our aid and even had a fancy automatic door that opened as he pulled up. Rui was able to give him the destination in Japanese although he still seemed a little confused by the address as it wasn't a well-known area or destination.
In Japan they drive on the left side of the road and even the driver seat is on the right which for some reason was difficult for me to get used to. 
My anxiety was beginning to kick back in as I once again was getting nervous of the chance of being late and making a poor first impression. As we neared our destination the driver dropped us off just down the block (as he was confused of just where it was and neither of us had visited the location before) which allowed us to arrive with just minutes to spare after shamefully paying $20 for the trip which could've cost us $1.60 each via train. The building that hosted the soccer pitch was a relatively large and modern 5 story building. It featured some shops and what looked to be a bookstore on the bottom floor as well as some other facilities on the middle floors with the sports complex & gym located on the top floor. We made our way to the top floor and followed the signs for the soccer pitch. We eventually arrived at a small indoor court that had netting surrounding the exterior. There was also a pretty cool outdoor court located right next to it as well. I went up and introduced myself to the organizer, Matthew, and paid my $20 dues as the participation fee. Everyone seemed to be super friendly and about half knew each other. The level looked to indeed be mixed as I sat on the spectator bench with Rui sizing everyone up as they warmed up and did some basic passing between each other. Pretty much everyone were foreigners with just a handful of Japanese natives lingering around. Within minutes of my arrival Matthew blew his whistle and gathered everyone onto the field to break into teams. I was super excited to be able to participate in playing soccer in Japan and was basically just looking to have some fun running and kicking the ball around. I wasn't too worried about my overall team's skill or winning or losing. I did slightly feel like the cocky new guy as I was the stranger who showed up having played at a pretty high level before and I couldn't shake the huge smile on my face as we broke up into teams. We put the ball down and began playing and I could tell right away that some people took it pretty seriously and some a little less serious. There were two girls playing and one seemed to be pretty competitive, had a high work rate, and was quite skilled! She was a regular and to complicate the fact that I was getting some glares from my lackadaisical but skilled (and probably seen as cocky) play, one of the first plays against her involved her laying the ball off and then turning to run by me. Unfortunately I wasn't really in the most athletic stance and couldn't get out the way in time which resulted in her running straight into me and being sent to the ground… Play stopped as I helped her up apologizing but she didn't seem to take it as too heartfelt. Everything eventually settled down and I was able to showcase some talent for Rui without taking away from the game or showboating too much. After playing a few rounds of 3-team (one team rests off the field), I was pretty exhausted, sweaty, and Rui was beginning to get hungry (she almost got an ice-cream as a substitute snack as it was the only food in the vending machines there – yes they have ice cream vending machines). I promised her a good dinner for being so patient as I said my goodbyes to Mathew while he prepped for a second session with a new crowd. I assured him I'd come to play again and let him know that I would contact him online so that we could get some drinks and checkout some places while I was in town.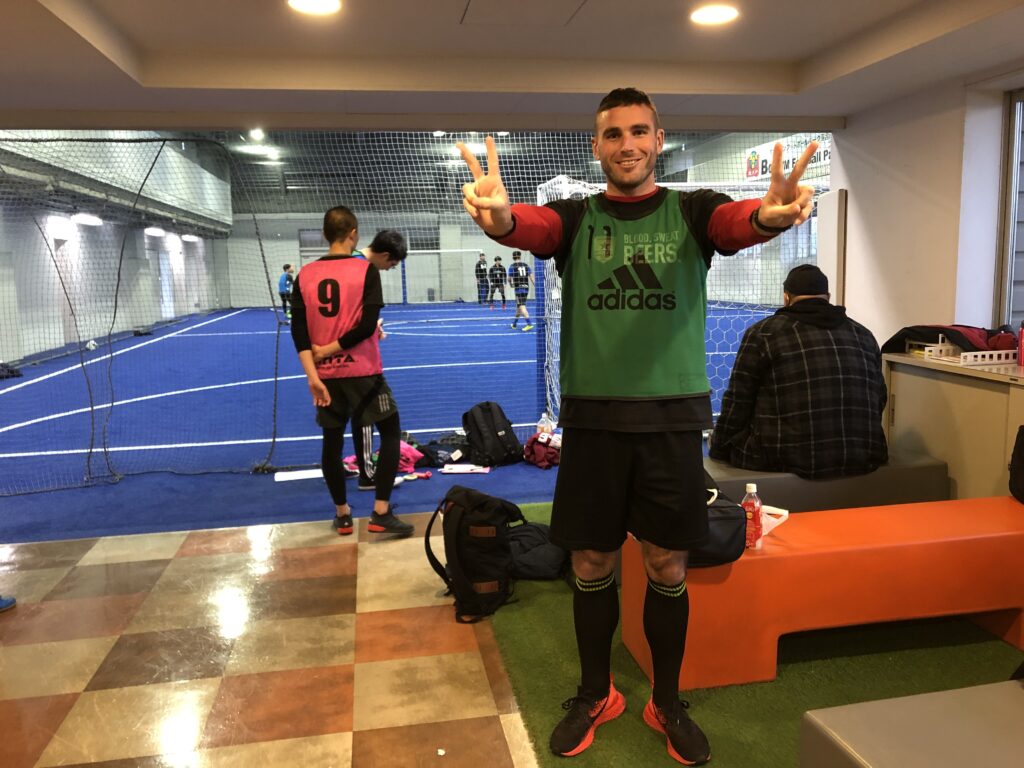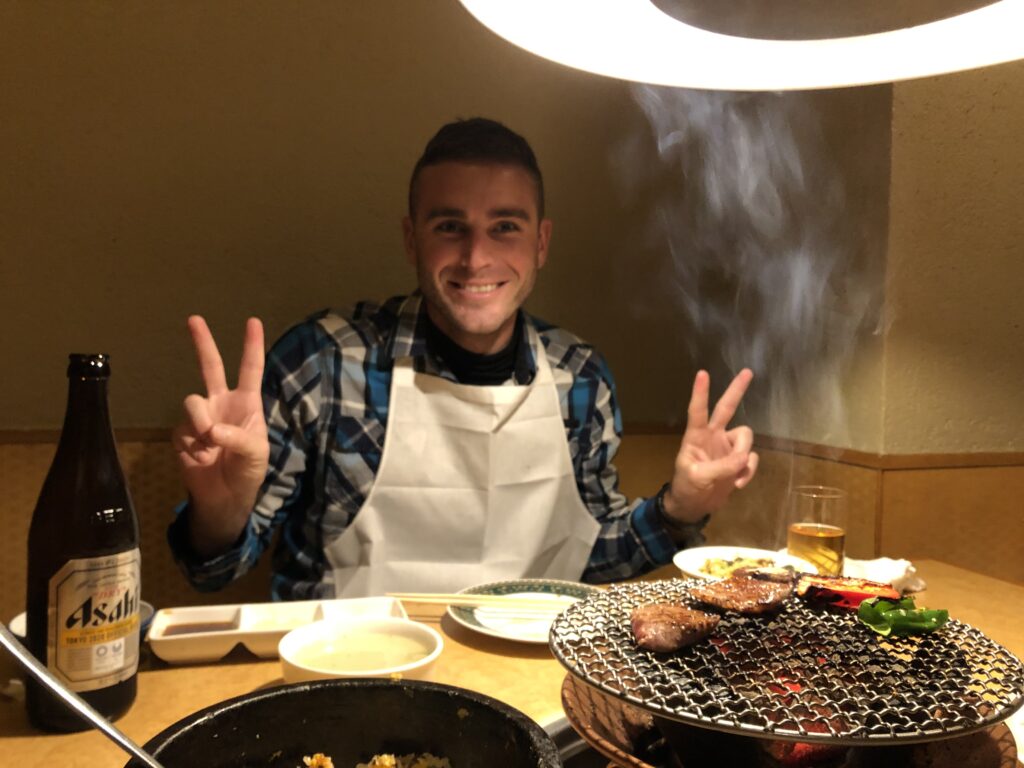 We took the train this time around and headed back to the hotel so I could shower quickly before heading out to dinner. After finishing my shower Rui was amped and excited to head out as she'd found a fun spot to take me for dinner which apparently was located pretty close by and at another relatively hidden location. We made our way down the street a few blocks and found ourselves at a dimly lit door with some Kanji written above it. Looked pretty legit regardless of being on the first floor. We made our way inside and the restaurant was a quiet place with a number of private rooms. We removed our shoes (always a good sign) and made our way to one of the back rooms as the server let us know that they'd be closing relatively soon (adjusted hours because of the virus) so we prepared to place our order quickly. We were at a Yakiniku restaurant which means you cook your own meat on a hotplate in the middle of the table. Since Rui had handpicked this spot, I let her do all the ordering with my only request being a lot of beer! We ended up eating some amazing meat and at one point I even held a decent conversation in Japanese with the server which Rui was very proud of. Rui cooked up all the food as a reward for me playing so hard which was nice since I always get nervous about how long I'm supposed to cook the meet. After dinner I was pretty sleepy from playing soccer earlier in the evening and decided to call it an early night. On our walk back we did pass by a public bathroom which had quite a unique toilet.